Relatives and friends cried next to coffins as they buried children and others killed in a Russian missile attack on a central Ukrainian city, while fighting claimed more lives elsewhere.
Almost all of the 23 victims of the attack on Friday died when two missiles slammed into an apartment building in Uman.
Ukrainian interior minister Ihor Klymenko said six children were among the dead.
Mykhayl Shulha, six, cried and hugged relatives next to the coffin of his 12-year-old sister Sofia Shulha during Sunday's funeral, while others paid respects to an 18-year-old boy.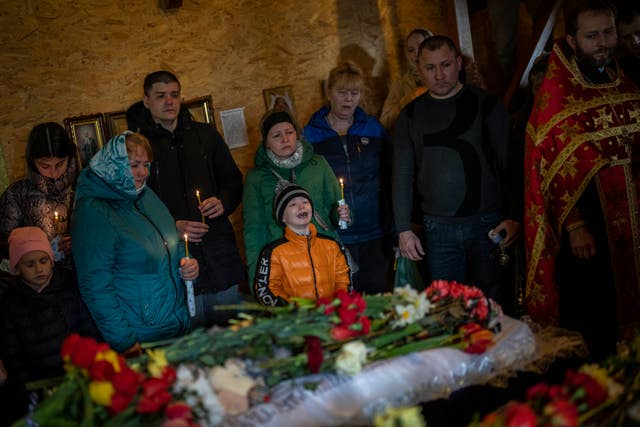 "I live nearby," said Father Fyodor Botsu.
"I personally knew the children, the littlest, from when they were very young, and I personally baptised them in this church.
"I'm worried with everyone since I have children and I'm a citizen of this country and have been living in this city for 15 years."
He said he prayed "that the war should end and peace should come to our homes, city and country".
At the damaged building in Uman, people brought flowers and photos of the victims.
Russia's 14-month-long war brought more deaths elsewhere on Sunday.
The governor of a Russian region bordering Ukraine said four people were killed in a Ukrainian rocket attack.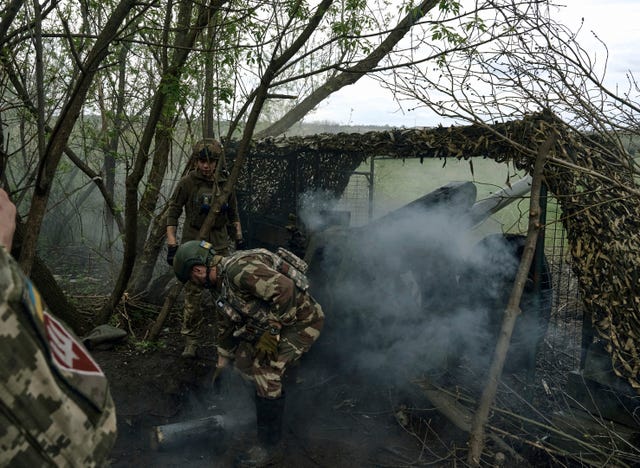 He said two other residents were injured and that defence systems had knocked down some of the incoming shells.
Bryansk and the neighbouring Belgorod region have experienced sporadic cross-border shelling throughout the war.
In March, two people were reported killed in what officials said was an incursion by Ukrainian saboteurs in the Bryansk region.
Also on Sunday, governor Oleksandr Prokudin said his Kherson region in Ukraine came under Russian artillery fire 27 times in the past 24 hours, killing one civilian.
An expected spring counter-offensive by Ukraine could be concentrated in the Kherson region, a gateway to Crimea and other Russian-occupied territory in the southern Ukrainian mainland.
Ukrainian forces drove Russian forces out of the regional capital Kherson last year, a significant defeat for Russia.
Ukrainian President Volodymyr Zelensky said the counter-offensive would not wait for the delivery of all promised military equipment.
"But it happens that the terms (of weapons deliveries and counter-offensive), unfortunately, do not coincide a little bit. And, I will say frankly, we pay attention to the weather."
Ukraine is particularly hopeful that it will receive western fighter jets, but Mr Zelensky said his forces will not delay the counter-offensive for that, so as not to "reassure Russia that we still have a few months to train on the planes, and only then will we start".
Mr Zelensky said he spoke on Sunday with French President Emmanuel Macron about the weapons supply, and was pleased with its "speed and specificity".
Mr Macron's office said he reiterated France's commitment to provide Ukraine with "all the aid necessary to restore its sovereignty and territorial integrity", and discussed long-term European military aid.
The head of Russia's Wagner mercenary group that is leading his country's battle in the eastern Ukrainian city of Bakhmut gave an even more precise timetable for the Ukrainian counter-offensive.
The Ukrainian military will launch the counter-offensive by May 15 because by then strong rains will have stopped and soil will be dry enough for tanks and artillery to move, Wagner founder Yevgeny Prigozhin said in a video interview with a Russian journalist posted on Saturday.
In other battlefield developments, Ukraine's northern command said the Sumy and Chernihiv regions, which border Bryansk and Belgorod, came under fire 11 times during the night on Sunday.