Officials are investigating whether the man believed to have killed eight people at a shopping centre in Dallas had an interest in white supremacist ideology, according to a law enforcement officer.
Marcelo Garcia, 33, was shot dead by a police officer near the suburban Allen Premier Outlets after the shootings on Saturday.
The law enforcement official told The Associated Press federal agents had been reviewing social media accounts and believed Garcia had expressed an interest in neo-Nazi views and had a patch on his chest reading RWDS – an acronym for Right Wing Death Squad which is popular among extremists and white supremacy groups.
The Texas Department of Public Safety identified Garcia as suspected of killing eight people a day after the attack.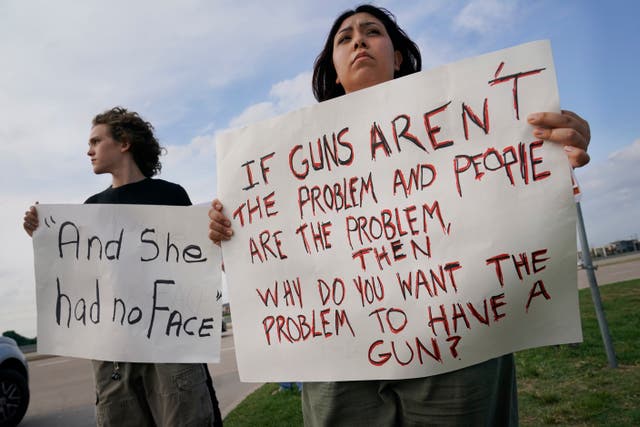 Further law enforcement officials said investigators had searched a home connected to the suspect and a Dallas motel near an interstate where Garcia had been staying where they found multiple weapons, including an AR-15-style rifle and a handgun.
Seven people were wounded in the attack and remained in hospital on Sunday, three in critical condition.
In a statement, President Joe Biden said the assailant wore tactical gear and fired an AR-15-style weapon.
He urged Congress to enact tighter restrictions on firearms and ammunition.
"Such an attack is too shocking to be so familiar. And yet, American communities have suffered roughly 200 mass shootings already this year, according to leading counts," said Mr Biden, who ordered flags lowered to half-staff.
Republicans in Congress, he said, "cannot continue to meet this epidemic with a shrug".
The shooting was the latest attack to contribute to the unprecedented pace of mass killings this year in the US which has seen an average of about one mass killing per week.
On April 18, five people were fatally shot in Cleveland, Texas, after a neighbour asked a man to stop firing his weapon while a baby slept, authorities said.
Allen, about 25 miles north of downtown Dallas, is among the Dallas-Fort Worth area's diverse suburbs and saw the largest Asian American growth rate of any major US metro area, according to US Census figures.
Patrick Crusius lived there in 2019 before he posted a racist screed online that warned of a "Hispanic invasion" and drove to El Paso, where he opened fire at a Walmart, killing 23.
Crusius, 24, pleaded guilty to federal hate crime and weapons charges in February.