Ukraine air defences shot down 35 Iranian-made drones over Kyiv in Russia's latest night-time assault, as attacks across Ukraine by the Kremlin's forces killed four civilians, officials have said.
The bombardments came as Moscow enforced tight security on the eve of traditional Red Square commemorations marking the defeat of Nazi Germany in the Second World War.
Russian media counted at least 21 Russian cities that cancelled military parades – the staple of Victory Day celebrations across Russia – on May 9 for the first time in years.
Regional officials cited "security concerns" or vaguely referred to "the current situation".
But the use of drones has been banned in both cities ahead of Victory Day.
In St Petersburg, which is often referred to as "northern Venice" for its network of rivers and canals, using jet skis in certain parts of the city has also been prohibited until May 10.
In the Russian capital, car sharing services have been temporarily barred from the city centre – drivers will not be able to start or finish rides there.
Five people in the Ukrainian capital were injured by falling drone debris, according to Serhii Popko, head of the Kyiv City Military Administration.
Air raid alarms sounded for more than three hours during the night.
Drone wreckage struck a two-storey apartment building in Kyiv's western Svyatoshynskyi district, while other debris struck a car parked nearby, setting it on fire, Kyiv mayor Vitali Klitschko said in a Telegram post.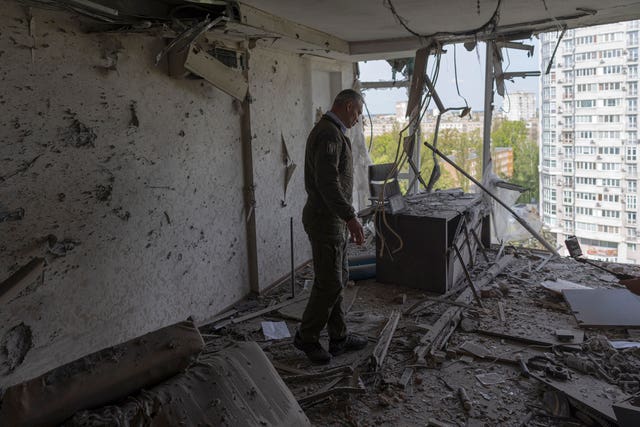 Russian shelling of 127 targets across northern, southern and eastern parts of Ukraine killed three civilians, the Ukrainian Defence Ministry said.
The Kremlin's forces used tanks, drones, mortars, warplanes, multiple rocket launchers and surface-to-air missiles to bombard Ukraine, the report said.
Russian long-range bombers launched up to eight cruise missiles at Ukraine's southern Odesa region, authorities said.
One person was killed and three wounded.
Some of the Soviet-era cruise missiles fired against the Odesa region self-destructed or fell into the sea before reaching their targets, according to Ukrainian air force spokesman Yuri Ihnat.
In addition, six Russian rockets also struck the eastern Ukrainian city of Kramatorsk during the night, a regional official reported on Monday.
The missiles targeted the city's industrial zone and caused no casualties, Donetsk regional governor Petro Kyrylenko said in a Telegram post.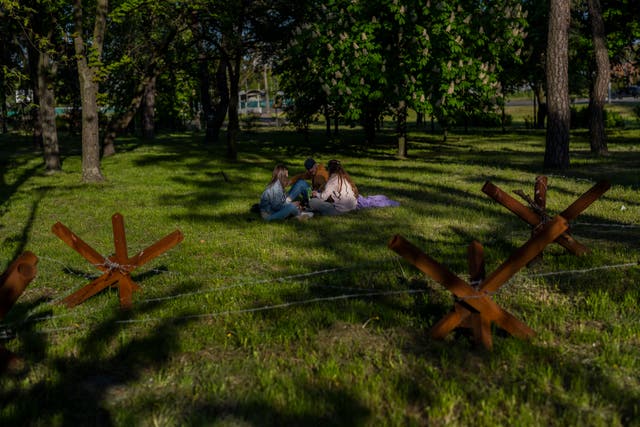 Many regions have cancelled their May 9 observances because of concerns the events could be targets for Ukrainian attacks.
May 9 is normally a bank holiday in Ukraine, too, but not this year, because of the war.
On top of that, Ukrainian President Volodymyr Zelensky said on Monday he had sent a draft Bill to parliament proposing a Day of Remembrance and Victory over Nazism in the Second World War on May 8 and a Day of Europe on May 9, further distancing Kyiv from Moscow.
Mr Zelensky equated Russia's goals in Ukraine with those of the Nazis.
"Unfortunately, evil has returned," Mr Zelensky said on Telegram.
"Although now it is another aggressor, the goal is the same – enslavement or destruction."
Meanwhile, Russian-installed authorities have begun evacuating residents of Tokmak, a town in the frontline southern Zaporizhzhia region, towards the Black Sea coast, Ukraine's General Staff said.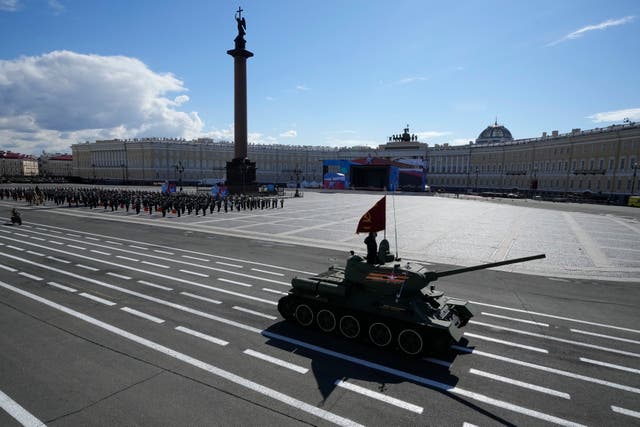 The report came just days after Yevhen Balitsky, the Russian-appointed governor of the partially occupied Zaporizhzhia region, ordered the evacuation of civilians from 18 settlements there on Friday, including Enerhodar which neighbours the Zaporizhzhia nuclear power plant.
Speculation has been mounting for months about the timing and focus of Ukraine's expected spring offensive, with some analysts saying Kyiv might try to strike south into Zaporizhzhia in order to split Russian forces and cut Moscow's land link to occupied Crimea.
In a separate development, the Russian military command has promised the Wagner Group, a private military company, additional ammunition and equipment for its offensive in the eastern city of Bakhmut, Wagner founder Yevgeniy Prigozhin said in an audio statement published by his press service.
Mr Prigozhin on Friday threatened that Wagner fighters could pull out of the embattled city, where they have for weeks been Russia's main assault force.
He accused Russia's military command of starving Wagner of ammunition and causing it heavy losses.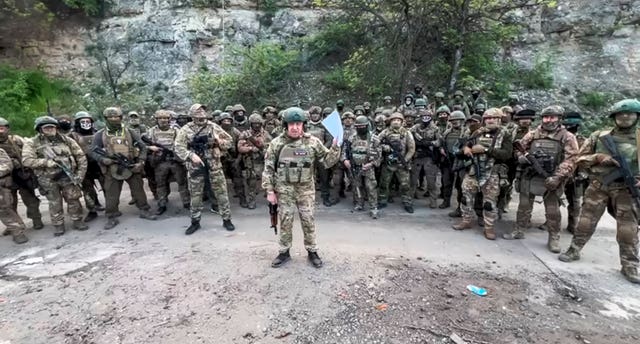 In the statement on Sunday, Mr Prigozhin claimed that Russian defence officials have since committed to providing the mercenaries with "ammunition and equipment, as much as is needed to continue" and given Wagner a free hand to take operational decisions in Bakhmut.
A Ukrainian military spokesman on Monday scoffed at Mr Prigozhin's claims about a lack of ammunition, saying Wagner's problems in Bakhmut are instead due to a high kill rate and its inability to replenish its ranks.
"There is no shell shortage. This is absolutely not true," Serhii Cherevaty, a spokesman for the Eastern Group of Forces, said on Ukrainian TV.
"There are more than enough shells to fire at our positions."