The death toll from clashes in Sudan has risen to 604 people, including civilians, the UN health agency said, as representatives of the warring parties hold talks in Saudi Arabia.
More than 5,100 people have also been wounded in the fighting, World Health Organisation spokesperson Tarik Jasarevic told reporters.
On Monday, the Sudanese Doctors' Syndicate, which tracks civilian casualties, said such fatalities had reached 487.
The conflict started on April 15 after months of escalating tensions between the military, led by General Abdel-Fattah Burhan, and a rival paramilitary group called the Rapid Support Forces (RSF) commanded by General Mohamed Hamdan Dagalo.
The fighting has turned urban areas into battlefields and displaced nearly 700,000 people on top of the 3.7 million who had already been internally displaced within the country before the conflict began, according to the UN migration agency.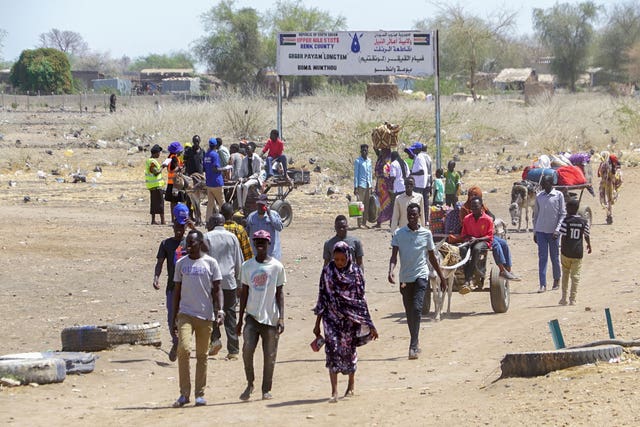 UN humanitarian chief Martin Griffiths proposed "a declaration of commitments" to representatives of the rival forces to guarantee the safe passage of humanitarian aid, UN deputy spokesman Farhan Haq told reporters at UN headquarters on Tuesday.
He said Mr Griffiths made the proposal in Jeddah and was "encouraged" that there were consultations on the declaration, "so that was a step forward".
The talks are part of a diplomatic initiative proposed by the kingdom and the US in hopes of ending the fighting. Meanwhile, Gen Burhan accused the RSF of using residential neighbourhoods as military bases and civilians as human shields.
In an interview late on Monday with an Egyptian TV channel, he insisted they must withdraw all their troops from the capital Khartoum before any truce agreement can be reached.
"If this is not achieved, there will be no point in going to Saudi Arabia, or engaging in any negotiations," he said. "We won't go ahead with any initiative that does not bring back normalcy and ensure the safety of our citizens."
Also on Tuesday, the UN special envoy for the Horn of Africa said the conflict is "profoundly" affecting Sudan's relations with neighbouring South Sudan.
Hanna Serwaa Tetteh told the UN Security Council the unstable situation has "the potential for more than 200,000 South Sudanese refugees hosted by the Sudan returning home prematurely to a country where two-thirds of the population already needs humanitarian assistance".
South Sudan is facing violent clashes and increasing disillusionment and frustration as it struggles to implement the most challenging provisions of a fragile 2018 powersharing agreement, according to the UN.
Before the conflict in Sudan erupted, relations between Sudan and South Sudan were stable and there were regular meetings between officials of both countries, including at the highest level.
But Ms Tetteh said the conflict in Sudan "is putting the incremental progress achieved by the two countries in addressing their outstanding bilateral issues in jeopardy".