President Joe Biden's nominee to head the National Archives was confirmed on Wednesday by the Senate after a months-long partisan battle over the agency's role in the investigation into sensitive documents seized at Donald Trump's Florida home.
Colleen Shogan, a political scientist, was confirmed as archivist of the United States in a 52-45 vote, gaining some bipartisan support after a nearly year-long delay.
With a long career spanning work at institutions such as the Congressional Research Service, the Library of Congress and the White House Historical Association, Ms Shogan has sought to assure senators she will not bring a partisan mindset to the job.
Ms Shogan also stressed to Congress that she has not been briefed on the details or directly involved in the ongoing criminal investigations into Mr Trump's handling of presidential records and more recently that of President Joe Biden and former Vice President Mike Pence.
But her nomination faced hostility from Senate Republicans, who have sought to portray her as a political actor for the left. During her confirmation hearing, they grilled Ms Shogan about her past tweets and a recent whistleblower letter alleging that she created an "abusive" work environment at one of her former posts.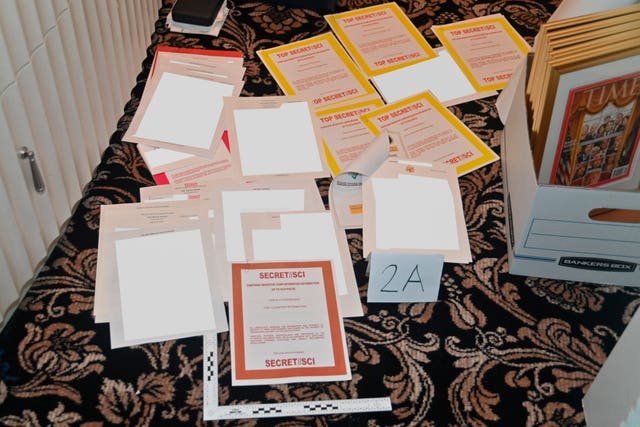 The classified documents investigation, which began last summer with the FBI search of former president Mr Trump's Mar-a-Lago resort, has thrust the National Archives into the public arena.
It was the National Archives that set the probe in motion with a referral to the FBI after Mr Trump returned 15 boxes of documents that contained dozens of records with classified markings.
Mr Biden nominated Ms Shogan just days before the FBI search after the last archivist, David Ferriero, announced his retirement last April. In explaining his decision to step away, Mr Ferriero cited fears about the nation's political trajectory after the January 6, 2021, attack on the US Capitol.
Ms Shogan began her career as a congressional aide for former Senator Joe Lieberman, then worked her way up to a position with the Congressional Research Service. She also worked for a time at the Library of Congress.
Until her confirmation, Ms Shogan was an executive at the White House Historical Association, where she worked under both the Trump and Biden administrations.
As the archivist, she will now take the helm of an agency that — despite the current political tumult — mostly works as a custodian of American history.
The agency works to preserve the nation's records, including treasured documents such as the Constitution and the Declaration of Independence and maintains a sprawling collection that spans 13 billion pages of text and 10 million maps, charts and drawings, as well as tens of millions of photographs, films and other records.
Beyond its work in Washington, the agency oversees 13 presidential libraries and 14 regional archives across the country.
Despite majority Republican opposition, Ms Shogan was able to gain the support of three GOP senators.