Authorities in eastern Switzerland ordered residents of the tiny village of Brienz to evacuate by Friday evening because geology experts say a mass of two million cubic metres of Alpine rock looming overhead could spill down in the coming weeks.
Local leaders said residents would have to leave by 6pm on Friday but could return to the village from time to time starting on Saturday, depending on the risk level, but not stay overnight.
The centuries-old village straddles German and Romansch-speaking parts of the eastern Graubunden region, sitting south-west of Davos at an altitude of about 1,158 metres (3,800 feet). It has fewer than 100 residents.
Over the last century, the village itself has moved a few centimetres each year, but the movement has speeded up over the last 20 years. The landslide has been moving about one metre per year. Geological surveys suggest the situation has become even more precarious.
Christian Gartmann, a member of the crisis management board in the town of Albula, which counts Brienz in its municipality, said experts estimate there is a 60% chance that the rock will fall in smaller chunks, which may not reach the village or the valley. The landslide could also move slowly.
But there is also a 10% chance that the whole mass may tumble down, threatening lives, property and the village itself, he said.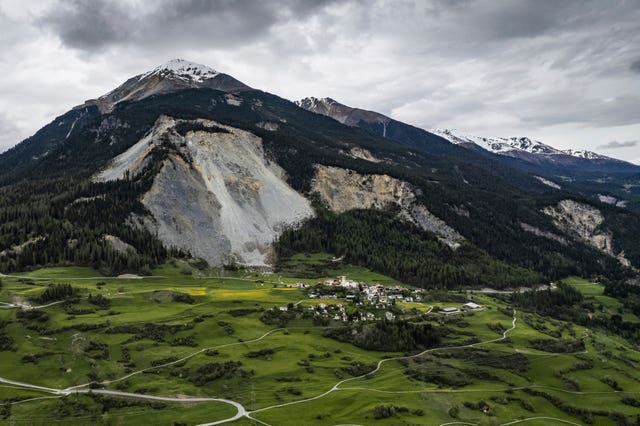 Mr Gartmann said glacier melt had affected the precariousness of the rocks over millennia but that melting glaciers due to "man-made" climate change in recent decades was not a factor.
Experts concluded that a controlled explosion to set off a rockslide was too dangerous because it would require drilling under the rock — itself a hazardous operation, Mr Gartmann said.
Erecting a giant pile of sand or a wall to try to hold back the rocks also was not considered feasible, he said, adding that the wall would have to be at least 70 metres (230 feet) high to protect the village.
Many of the evacuees were expected to stay with family or friends, though local leaders have received offers from concerned neighbours to provide temporary housing.
At the current "orange" alert level, however, farm animals were to be left behind.
"The church and the altar are important, but the people are more important," he told The Associated Press.
Pelico said many residents of the village had grown used to hearing the regular thunder of rockfall over the years. "But now they're suddenly realising that something terrible might happen."
"They have to leave their village," he added. "These aren't just buildings. There are emotions and histories here. I've seen a lot of tears lately."
Pelico said members of his congregation are torn between hope and pain.
"There's nothing you can do against nature," he said. "But deep in their hearts, there's hope that they'll be able to return to the village."