Two French citizens imprisoned in Iran have been freed, French authorities have said.
Benjamin Briere and Bernard Phelan, who both had been held in a prison in Mashhad, in north-east Iran, are heading to Paris, French foreign minister Catherine Colonna said.
"Free at last," President Emmanuel Macron tweeted. "It's a relief."
Mr Macron and the minister "thanked all those who worked" for their freedom.
Ms Colonna spoke earlier with Iranian minister of foreign affairs Hossein Amir Abdollahian.
Mr Briere, 37, was arrested three years ago, in May 2020 while touring, for taking photographs with a drone in an area where cameras were forbidden and asking questions on social media about Iran's obligatory Islamic headscarf for women.
He was convicted of spying and sentenced to eight years and eight months in prison, then reportedly acquitted this year.
Irish-French national Mr Phelan, 64, was arrested seven months ago while visiting Iran for consulting activities for a tour company, according to French daily newspaper Le Parisien.
His arrest last October came as women and men took up the cause against obligatory headscarves following the death in custody of Mahsa Amini. Iran's morality police had arrested her for wearing her headscarf too loosely.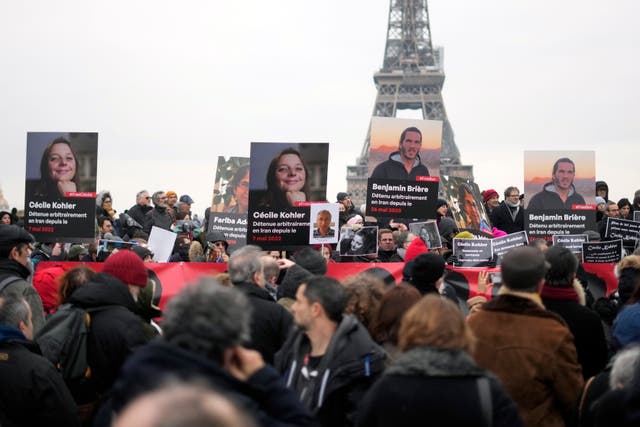 France identified the two as a teachers' union official and her partner on holiday in Iran.
In January 2022, Iranian justice officials ordered the re-imprisonment of Franco-Iranian academic Fariba Adelkhah, who was arrested in 2019.
Adelkhah had for a time been allowed to serve a five-year prison sentence under house arrest. She had been accused of "propaganda against the Islamic Republic's political system" and "collusion to undermine national security".
Her companion, academic Roland Marchal, was freed in 2020, a year after his arrest.
Other Europeans also remain imprisoned by Iran with occasional releases, widely viewed as part of a cynical and delicate bid for favours.