Bank runs, cyber security and building more reliable supply chains to ensure economic security were among the items on the agenda of closed-door financial talks in Japan by the Group of Seven advanced economies (G7).
Tensions with China, and with Russia over its war on Ukraine, loomed large on the wide horizon of issues the G7 is tackling this year in Japan – its only Asian member.
But while G7 finance ministers and central bank chiefs discussed ways to protect the international rules-based order and prevent what they are calling "economic coercion" by China, Beijing lashed back, accusing the club of wealthy nations of hypocrisy.
Chinese foreign ministry spokesperson Wang Wenbin said on Thursday that, "to put it bluntly, the international rules that G7 talks about are the Western rules of ideology and values and the rule of small clique that puts the US first, that is dominated by G7".
Mr Wang added: "The G7 demands that China abide by international rules, but it is a representative of those who violate and break international rules."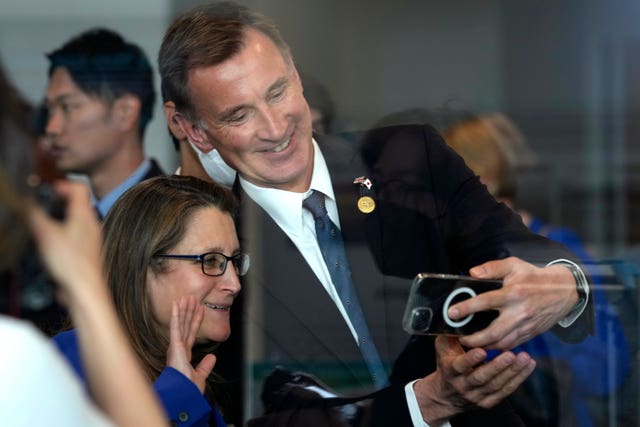 Speaking before the talks began, US treasury secretary Janet Yellen said such measures are "narrowly targeted" and focused on national security.
Ms Yellen said: "It's not focused on undermining China's economic competitiveness or preventing them to advance economically."
Asked what G7 countries mean by trying to prevent "economic coercion", namely by China, Ms Yellen cited trade actions by Beijing against Australia as one example.
"There have been examples of China using economic coercion on countries that take actions that China's not happy with from the geopolitical perspective," she said.
"We in the G7 share a common concern with this kind of activity and are looking to see what we can try to do to try to counter this kind of behaviour."
China's relations with the 27-nation European Union, which is also a member of the G7, have also been frayed by friction over trade and over its tacit support for Russia.
Leaders attending the talks in Niigata said they would be considering ways to prevent countries from skirting sanctions against Moscow meant to hinder its ability to continue the war.
For its G7 presidency, Japan has prioritized launching a partnership with low- and middle-income countries to build "robust supply chains" to help cut carbon emissions.
One key area of concern for all G7 countries is the heavy concentration in China of suppliers of rare earths materials needed in many high-tech products.
Meanwhile, recent failures of banks in the US and Europe have added to the complexity of steering the world economy toward a sustained recovery from the pandemic while cooling inflation that surged to multi-decade highs in the past year.
"It's become clear that financial worries can spread in an instant via social networking sites, and online banking, allowing money withdrawals outside business hours, can cause bank runs," Japanese finance minister Shunichi Suzuki said.
The collapses of Silicon Valley Bank and other lenders stemmed largely from the pressure of interest rate hikes that, by making borrowing more expensive, are designed to slow business activity and cool inflation.
The meetings in Niigata are a good chance to "compare notes and to see how we can make the world a little bit more stable and reach the price stability that we very much want to arrive at in short order," Christine Lagarde, head of the European Central Bank, said in videotaped comments posted online.
Overhanging the financial experts' talks is the question of whether US President Joe Biden and Congress will come to an agreement on raising the ceiling on the national debt before the American government runs out of money to pay its bills.
Ms Yellen said a default on the national debt would be catastrophic and was "unthinkable".
A meeting between Mr Biden and legislators on the issue was pushed back to May 18 to allow staff talks to continue over the weekend. US administration officials portrayed it as a positive step and it did not appear to indicate a breakdown in talks.
The three days of talks in this port city on the Sea of Japan are the last in a series of ministerial meetings to prepare for a summit of G7 leaders next week in Hiroshima.