The border between the US and Mexico was relatively calm on Friday, offering few signs of the chaos that was feared following a rush by worried migrants to enter the US before the end of pandemic-related immigration restrictions.
Less than 24 hours after the rules known as Title 42 were lifted, migrants and government officials were still assessing the effect of the change and the new regulations adopted by President Joe Biden's administration to stabilise the region.
"We did not see any substantial increase in immigration this morning," said Blas Nunez-Neto, assistant secretary for border and immigration policy at the Department of Homeland Security. He said the agency did not have specific numbers.
Migrants along the border continued to wade into the Rio Grande to take their chances getting into the US while defying officials shouting for them to turn back.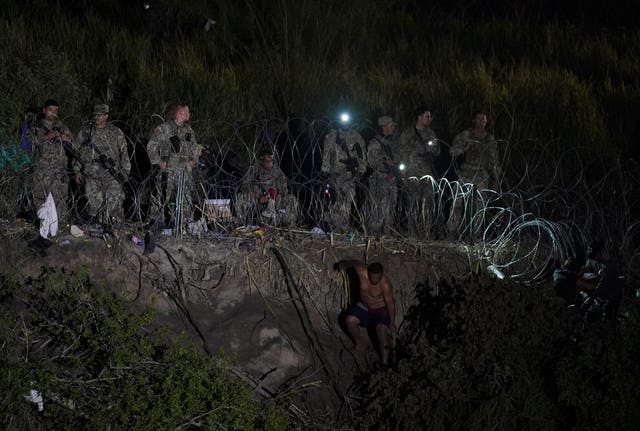 The Biden administration has said the revamped system is designed to crack down on illegal crossings and to offer a new legal pathway for migrants who often pay thousands of dollars to smugglers to get them to the border.
On Friday, Mr Biden commended Spanish Prime Minister Pedro Sanchez for his country's collaboration with the US and Canada to establish migration hubs in Latin America where asylum seekers will be able to apply for refuge.
Migrants are now essentially barred from seeking asylum in the US if they did not first apply online or seek protection in the countries they travelled through. Families allowed in as their immigration cases progress will face curfews and GPS monitoring.
The legal pathways touted by the administration consist of a programme that permits up to 30,000 people a month from Haiti, Cuba, Nicaragua and Venezuela to enter if they apply online with a financial sponsor and enter through an airport.
If it works, the system could fundamentally alter how migrants come to the southern border. But Mr Biden, who is running for re-election, faces withering criticism from migrant advocates, who say he is abandoning more humanitarian methods, and from Republicans, who claim he is soft on border security.
The lull in border crossings follows a recent surge of crossings by migrants in hopes of being allowed to stay in the United States before the Title 42 restrictions expired.
Title 42 had been in place since March 2020. It allowed border officials to quickly return asylum seekers back over the border on grounds of preventing the spread of Covid-19. The US has declared the national emergency over, ending the restrictions.
While Title 42 prevented many from seeking asylum, it carried no legal consequences, encouraging repeat attempts. After Thursday, migrants face being barred from entering the US for five years and possible criminal prosecution.