Russia is looking to buy additional advanced attack drones from Iran for use in its war against Ukraine after using up most of the 400 drones it had previously purchased, according to the White House.
The Biden administration last year publicised satellite imagery and intelligence findings that it said indicated Iran had sold hundreds of attack drones to Russia, and for months, officials have said the US believed Iran was considering selling hundreds of ballistic missiles to Moscow, but Washington did not have evidence a deal was confirmed.
"Iran also continues to provide Russia with one-way attack UAVs (unmanned aerial vehicles). Since August, Iran has provided Russia with more than 400 UAVs primarily of the Shahed variety," White House National Security Council spokesman John Kirby said.
"Russia has expended most of these UAVs, using them to target Ukrainian critical infrastructure inside Ukraine. By providing Russia with these UAVs, Iran has been directly enabling Russia's war of aggression in Ukraine."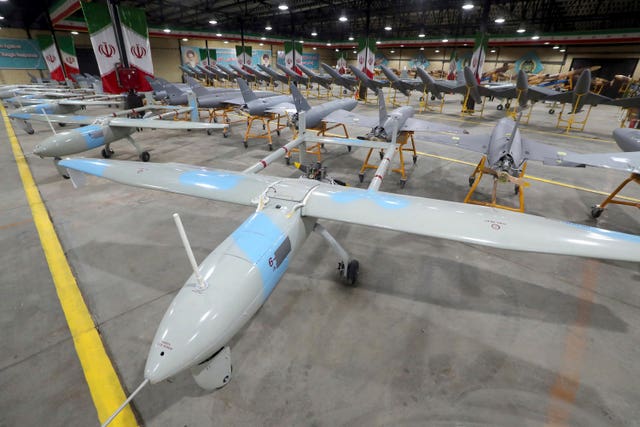 The latest revelation is part of a persistent drip of intelligence findings from the US administration to detail what officials say is a deepening defence partnership between Russia and Iran.
The US allegations are part of a broader effort to declassify and publicise intelligence findings concerning Moscow's nearly 15-month war in Ukraine in hopes of furthering global isolation of Russia.
The administration says the Kremlin's reliance on Iran as well as North Korea — countries largely isolated on the international stage for their nuclear programmes and human rights records — shows desperation in the face of Ukrainian resistance and the success of the global coalition in disrupting Russian military supply chains.
The White House says Russia has turned to North Korea for artillery.
"This is a full scale defence partnership that is harmful to Ukraine, to the region in the Middle East and to the international community," said Mr Kirby, who added that Tehran has been "Russia's top military backer" since the start of the invasion.
Iran has said it provided drones to Russia before the war but not since. North Korea has denied providing Russia with artillery.
The White House has said for months that it has seen troubling signs that the military cooperation between Moscow and Tehran could flow both ways.
Iran is seeking to purchase additional military equipment from Russia, including attack helicopters, radars, and YAK-130 combat trainer aircraft, according to the White House, and Tehran announced last month that it had finalised a deal to buy Su-35 fighter jets from Russia.
The White House has also previously said Moscow and Tehran were considering starting a drone assembly line in Russia for the Ukraine conflict.
"In total, Iran is seeking billions of dollars' worth of military equipment from Russia," Mr Kirby said.
President Joe Biden is due in Japan later this week for the G7 summit, where he is expected to make a call to fellow leaders of some world's biggest economies to further tighten export controls and sanctions on Moscow.