People in Thailand have voted for change after nine years under a former general who took power in a coup, with the main opposition parties easily beating other contenders in the general election.
The opposition Move Forward Party outperformed even optimistic projections and appeared poised to capture almost all 33 House seats in the capital Bangkok.
Along with the Pheu Thai Party, another opposition group, Move Forward campaigned for reform of the military and the monarchy.
Move Forward put those issues closer to the heart of its platform, earning a more radical reputation.
Prime Minister Prayuth Chan-ocha, who came to power in a 2014 coup, was blamed for a stuttering economy, pandemic response shortcomings and thwarting democratic reforms — a particular sore point with younger voters.
"This is people saying that we want change," said Saowanee T Alexander, a professor at Ubon Ratchathani University in north-eastern Thailand. "They are saying that they could no longer take it. The people are very frustrated. They want change, and they could achieve it."
With more than 99% of ballots counted, Move Forward appeared to have a small edge over Pheu Thai, whose leaders conceded on Sunday they might not finish on top following voter turnout of about 39 million, or 75% of registered voters.
Move Forward leader Pita Limjaroenrat tweeted that he is ready to bring about change should he be the country's 30th prime minister.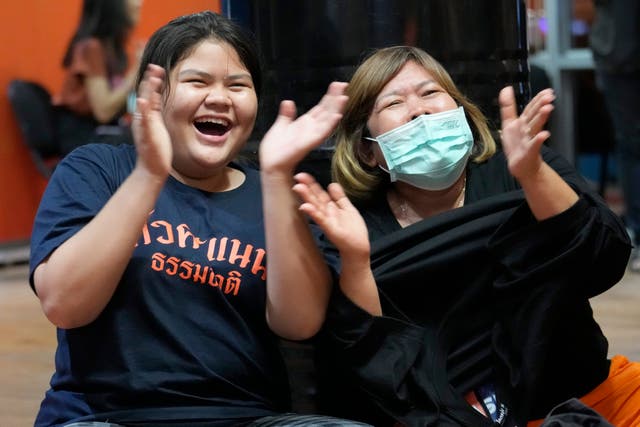 Sunday's winner is not assured the right to form the new government.
A joint session of the 500-seat House of Representatives will be held with the 250-member Senate in July to select the prime minister, a process widely seen as undemocratic because the military appointed the senators, who will vote along with elected lawmakers.
Move Forward captured just over 24% of the popular vote for the 400 constituency seats in the House of Representatives and nearly 36% for seats allocated in a separate nationwide ballot for 100 members elected by proportional representation.
Pheu Thai lagged slightly behind with just over 23% for constituency seats and about 27% for the party list.
The tally of constituency votes gave 113 House seats to Move Forward and 112 to Pheu Thai, according to unofficial results on Monday from the Election Commission.
Mr Prayuth's United Thai Nation Party held the fifth spot in the constituency vote with almost 9% of the total but placed third in the party-preference tally with close to 12% and 23 House seats in the constituency vote.
Ubon University's Prof Alexander cautioned that the situation remains "very unpredictable" and the results could be unilaterally affected by the Election Commission, which previously disqualified opposition parties or otherwise undermined challenges to the conservative establishment.
She noted the Bhumjaithai Party, which came in third, could be a "swing vote" since the combined Move Forward and Pheu Thai seats may not be enough for a majority coalition. Bhumjaithai controls a large bloc of votes in the north east and helped put the military-backed coalition into power.