Convoys of buses and vehicles filled with Pakistani government supporters have flooded the main road leading to the country's capital to protest against the release of former prime minister Imran Khan.
Thousands made their way to the Supreme Court for a rare sit-in against its decision to give the opposition leader an "undue reprieve" following his arrest in a corruption case.
The 70-year-old was released on bail and given protection from arrest until later this month.
The call to protest is a sign of escalating tensions between the judiciary and the government of Prime Minister Shahbaz Sharif, who replaced Mr Khan after he lost a no-confidence vote in Parliament in April 2022.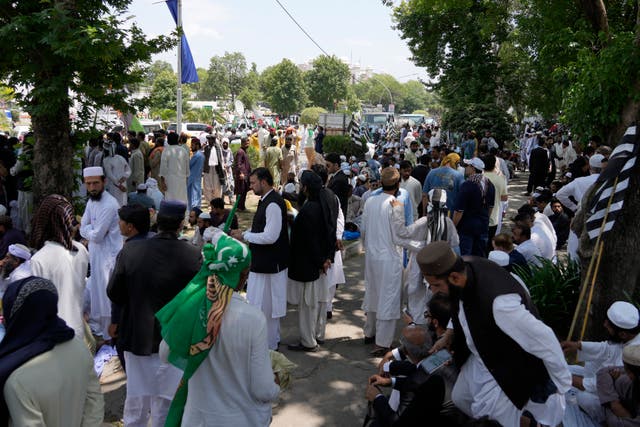 The Pakistan People's Party led by Bilawal Bhutto Zardari — the son of assassinated prime minister Benazir Bhutto — is also joining the protest.
The sit-in is expected to take place despite a ban on rallies and public gatherings that the government imposed in the wake of the crisis.
"Our peaceful protest is against Chief Justice (Umar Ata Bandial) for facilitating the release of Imran Khan," said Fazalur Rehman, the head of the Pakistan Democratic Alliance. As he spoke, more than 3,000 supporters had gathered near the sprawling court building.
In a televised statement on Monday, Defence Minister Khawaja Mohammad Asif accused the Supreme Court of siding with Mr Khan. He suggested the court "examine the conduct of the chief justice" and take legal action against him.
From his home in the eastern city of Lahore, where he returned following his release, Mr Khan claimed in a tweet on Monday that the sit-in is being orchestrated to remove the Supreme Court's chief justice.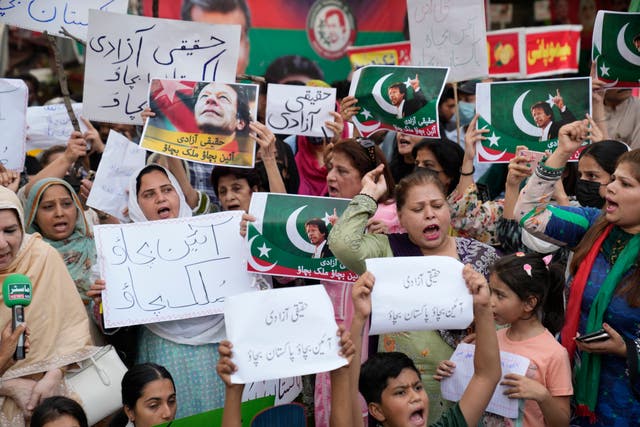 Mr Khan's arrest triggered a wave of violent protests across Pakistan. Supporters of Mr Khan and his Pakistan Tahreek-e-Insaf party clashed with police, set fire to scores of police vehicles and burned down government buildings and even military facilities, including the residence of a top regional army commander in the eastern city of Lahore.
A year after his ousting, Mr Khan, a former cricket star turned Islamist politician, is still widely popular in Pakistan.
Mr Khan blames Mr Sharif, the country's military and Washington for his removal from power, saying it was part of a conspiracy to discredit him. All three have denied the claim.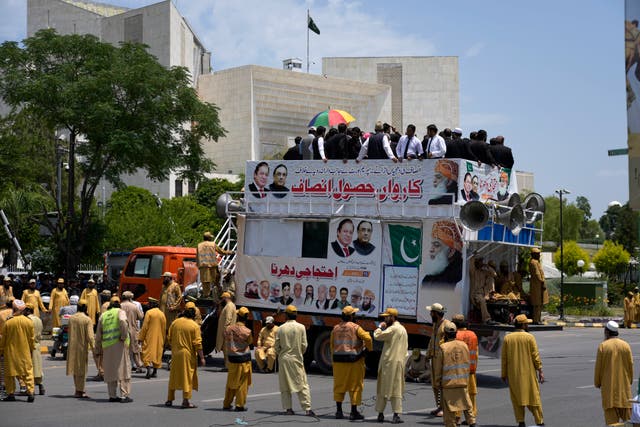 Ms Bibi also faces possible arrest in the case related to Malik Riaz, the business tycoon, as both she and Mr Khan are implicated in real estate acquisition from the magnate during Mr Khan's term in office.
Cash-strapped Pakistan is facing political turmoil amid stalled talks with the International Monetary Fund for the revival of a 2019 bailout to avoid a default on payments.