Turkey's presidential race is going to a second-round run-off on May 28 as incumbent Recep Tayyip Erdogan fell just short of an outright victory.
Ahmet Yener, the head of the Supreme Electoral Board, said that even when the remaining 35,874 uncounted overseas votes were distributed, no one would secure the majority needed to win the election outright.
He said preliminary results showed Mr Erdogan won 49.51%, his main challenger Kemal Kilicdaroglu won 44.88% and the third candidate Sinan Ogan won 5.17%. Even if all uncounted votes went to Mr Erdogan, his votes would only move up to 49.54%, Mr Yener said.
Mr Erdogan, 69, earlier told supporters that he would respect the nation's decision if the race went to a run-off.
Opinion polls in the run-up to Sunday's vote had given Mr Kilicdaroglu, the joint candidate of a six-party opposition alliance, a slight lead over Mr Erdogan, who has governed Turkey as either prime minister or president since 2003.
Mr Kilicdaroglu sounded hopeful for a second-round victory.
"We will absolutely win the second round… and bring democracy," said Mr Kilicdaroglu, 74, maintaining that Mr Erdogan had lost the trust of a nation now demanding change.
He is believed to have received support from electors wanting change after two decades under Mr Erdogan but unconvinced by the Mr Kilicdaroglu-led six party alliance's ability to govern.
The election results showed that Mr Erdogan's ruling Justice and Development Party was also set to retain its majority in the 600-seat parliament, although the assembly has lost much of its legislative power after a referendum to change the country's system of governance to an executive presidency narrowly passed in 2017.
Anadolu news agency said Mr Erdogan's ruling party alliance was hovering around 49.3%, while Kilicdaroglu's Nation Alliance had around 35.2% and support for a pro-Kurdish party stood above 10%.
The fact that Mr Erdogan appears to have held on to his majority increases his chances of winning a second-round vote, with more voters likely to support Mr Erdogan to avoid a split legislature.
Western nations and foreign investors are also awaiting the outcome because of Mr Erdogan's unorthodox leadership of the economy and often mercurial but successful efforts to put Turkey at the centre of international negotiations.
As in previous years, Mr Erdogan led a highly divisive campaign in his bid to stretch his rule into a third decade.
He portrayed Mr Kilicdaroglu, who had received the backing of the country's pro-Kurdish party, of colluding with "terrorists" and of supporting what he called "deviant" LGBTQ rights.
In a bid to woo voters hit hard by inflation, he increased wages and pensions and subsidised electricity and gas bills, while showcasing Turkey's homegrown defece industry and infrastructure projects.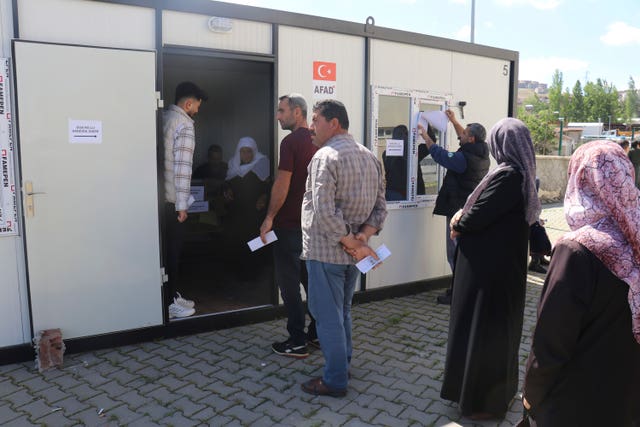 More than 64 million people, including the overseas voters, were eligible to vote and nearly 89% voted. This year marks 100 years since Turkey's establishment as a republic — a modern, secular state born from the ashes of the Ottoman Empire.