Ukraine shot down 29 out of 30 cruise missiles fired at Ukraine in the latest nighttime test of the country's air defences, officials said.
One person died and two were hurt when a Russian missile got through and hit an industrial building in the southern region of Odesa, said Serhiy Bratchuk, a spokesman for the region's military administration.
Amid the recently intensified Russian air assaults, China said its special envoy met with Ukrainian President Volodymyr Zelensky during talks in Kyiv earlier this week with Ukraine's chief diplomat.
Beijing's peace proposal has so far yielded no apparent breakthrough in the war and Chinese Foreign Ministry spokesman Wang Wenbin said on Thursday the warring parties need to "accumulate mutual trust" for progress to be made.
Ukrainian officials sought during the talks to recruit China's support for Kyiv's own peace plan, according to Ukraine's presidential office.
Mr Zelensky's proposal includes the restoration of his country's territorial integrity, the withdrawal of Russian forces and holding Russian President Vladimir Putin legally accountable for the invasion, which started in February 2022.
Leaders of the Group of Seven leading industrialised nations gathering in Japan on Thursday are expected to denounce Russia's war and vow to keep helping Ukraine fight Moscow. They will hold "discussions about the battlefield" in Ukraine, according to Jake Sullivan, the White House national security adviser.
A western official said Russia has built "potentially formidable" defensive lines on Ukrainian territory, including extensive minefields, and has more than 200,000 troops along the 600-mile frontline, though it is unlikely to possess credible reserves.
As Ukraine receives sophisticated weapons systems from its western allies, the Kremlin has started losing warplanes in areas previously deemed as safe, the official said, while Kyiv has proven able to shoot down Russia's hypersonic ballistic missiles — the most advanced weapons in Moscow's arsenal.
The official spoke on condition of anonymity to discuss military intelligence.
Meanwhile, Kremlin-installed authorities in occupied Crimea reported the derailment of eight train cars on Thursday because of an explosion, prompting renewed suspicions about possible Ukrainian saboteur activity behind Russian lines.
Russian state media said the train was carrying grain.
The state news agency RIA Novosti, quoting a source within the emergency services, said the incident happened near the city of Simferopol.
The Crimean Railway company said the derailment was caused by "the interference of unauthorised persons" and there were no casualties.
Ukraine officials refuse to comment on possible acts of sabotage.
Ukraine's military intelligence spokesman, Andriy Yusov, said on Ukrainian television Russian railway lines "are also used to transport weapons, ammunition, armoured vehicles".
Overnight, loud blasts were heard in Kyiv as the Kremlin's forces targeted the capital for the ninth time this month in a clear escalation after weeks of lull and ahead of a much-anticipated Ukrainian counteroffensive using newly supplied advanced western weapons.
Debris fell on two Kyiv districts, starting a fire at a garage complex.
There was no immediate word about any victims, Serhiy Popko, head of the Kyiv Military Administration, said in a Telegram post.
Ukraine also shot down two Russian exploding drones and two reconnaissance drones, authorities said.
The missiles were launched from Russian sea, air and ground bases, General Valerii Zaluzhnyi, the Ukrainian commander in chief, wrote on Telegram.
Several waves of missiles were aimed at areas of Ukraine between 9pm on Wednesday and 5.30am on Thursday, he said.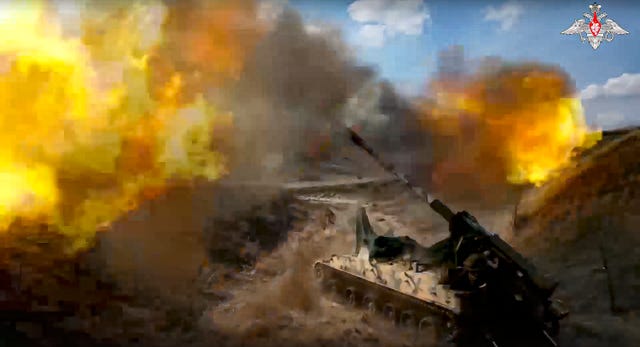 Russia then deployed reconnaissance drones over the capital.
In the last major air attack on Kyiv, on Tuesday, Ukrainian air defences bolstered by sophisticated western-supplied systems shot down all incoming missiles, officials said.
That attack used hypersonic missiles, which have been repeatedly touted by Mr Putin as providing a key strategic advantage.
The missiles, which are among the most advanced weapons in Russia's arsenal, are difficult to detect and intercept because of their hypersonic speed and manoeuvrability.
But sophisticated western air defence systems, including American-made Patriot missiles, have helped spare Kyiv from the kind of destruction seen along the main frontline in the country's east and south.
While the ground fighting is largely deadlocked along that frontline, both sides are targeting each other's territory with long-range weapons.
The most intense fighting has focused on the battle for the city of Bakhmut and the surrounding area, in Ukraine's eastern Donetsk province, with a Ukrainian military official claiming on Thursday the army advanced up to 1.7km (more than a mile) there over the previous day.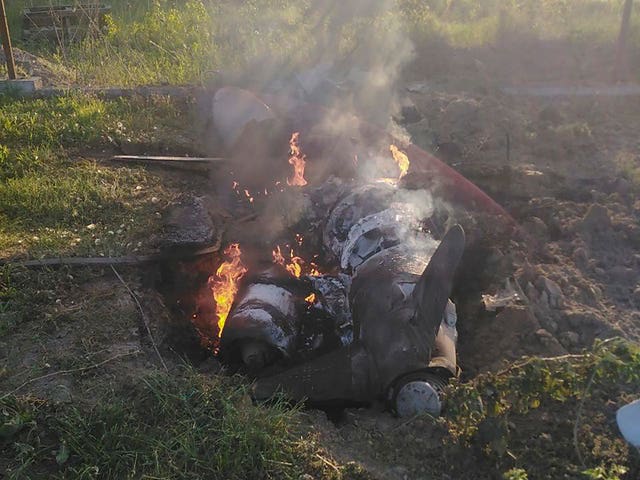 Mr Prigozhin is a frequent critic of the Russian military.
At least seven Ukrainian civilians have been killed, including a five-year-old boy, and 18 people hurt over the past 24 hours, the presidential office said.
Two people were also wounded in a drone attack in Russia's southern Kursk region, which borders Ukraine, the regional governor reported on Thursday.
In a Telegram post, Roman Starovoit claimed Ukrainian forces dropped an explosive device from a drone on a sports and recreation complex.