Ukrainian President Volodymyr Zelensky has addressed a summit of Arab leaders in Saudi Arabia before what a senior official said would be a trip to Japan for a meeting with the leaders of the world's most powerful democracies.
Mr Zelensky has in recent months made foreign trips to shore up diplomatic support for Ukraine's fight against Russia's full-scale invasion almost 15 months ago and solicit more military support.
He earlier this week returned from a three-day trip to Italy, the Vatican, Germany, France and the United Kingdom.
The conflict has been bogged down in a war of attrition in recent months amid bad weather.
Mr Zelensky's office said he was invited to attend the Arab League summit in Jeddah where he met with Saudi Crown Prince Mohammed bin Salman before holding other bilateral meetings.
They discussed Mr Zelensky's peace plan, the security situation in Ukraine and possible investments in the reconstruction of the country, a presidential statement said.
Mr Zelensky also invited Prince Mohammed to visit Ukraine.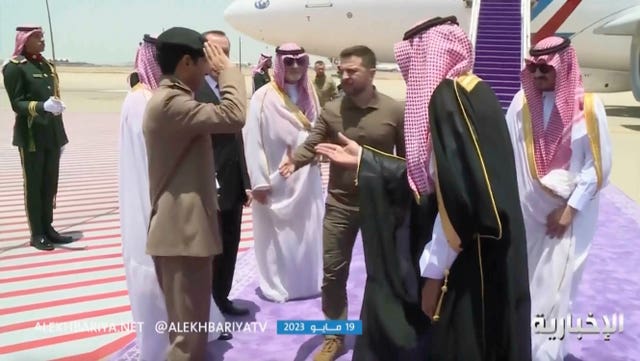 "I'm more than sure that none of you will agree to surrender a third of your country to the invaders," Mr Zelensky said in English.
"Another priority is the protection of the Muslim community of Ukraine," he said.
"Crimea was the first to suffer from the Russian occupation, and most of those who suffer repression in occupied Crimea are Muslims."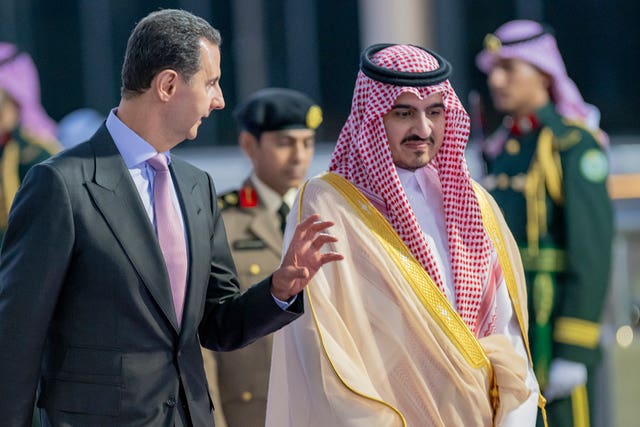 Mr Zelensky will later travel to a Group of Seven summit in Japan where leaders of the world's most powerful democracies aim to step up punishment on Russia for its full-scale invasion of Ukraine, according to Oleksiy Danilov, the secretary of Ukraine's National Security and Defence Council.
However, Mr Danilov's office later posted a statement backtracking on his announcement and saying Mr Zelensky would appear at the G7 summit via video link.
Mr Zelensky's movements are kept secret for security reasons.