Republican presidential hopefuls have rushed to support Daniel Penny, a white US marine veteran who was caught on video pinning an agitated Black subway passenger to the floor in a fatal chokehold.
Florida governor Ron DeSantis has urged his country to show Penny that "America's got his back".
Former UN ambassador Nikki Haley has called for New York's governor to pardon Penny, while biotech entrepreneur Vivek Ramaswamy donated 10,000 dollars (£8,000) to his legal defence fund.
Penny, 24, was caught on video in New York City pinning an agitated fellow subway passenger to the floor in a chokehold.
The passenger, 30-year-old Jordan Neely, later died from compression of the neck, according to the medical examiner.
Penny has been charged with manslaughter. His lawyers say he acted in self-defence.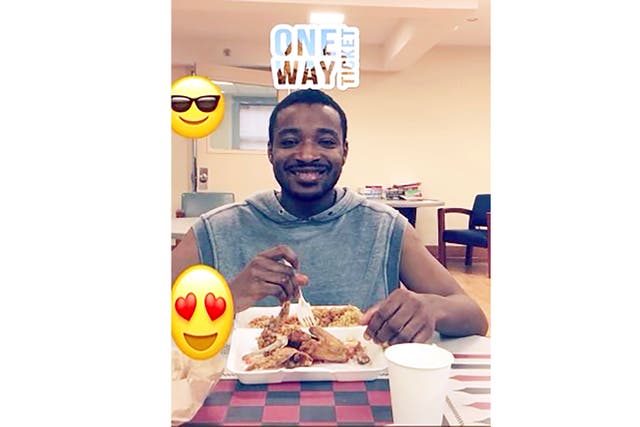 Republican support for Penny has been unwavering, despite the fact that Mr Neely, who was black, never got physical with anyone on the train before he was placed in the chokehold for several minutes by Penny.
The rush to back Penny recalls how then-president Donald Trump and other top Republicans fiercely supported Kyle Rittenhouse during the 2020 presidential election.
Rittenhouse, a white teenager who killed two men and wounded a third during a tumultuous night of protests in Wisconsin over a black man's death, was acquitted.
More recently, Texas Republican governor Greg Abbott vowed to pardon Daniel Perry, a white army sergeant who was sentenced to 25 years in prison for fatally shooting an armed man during a 2020 Black Lives Matter protest in the state's capital of Austin.
Top Republicans have tried to make rising crime rates a political liability for Democrats. The Republican-controlled House Judiciary Committee travelled to New York City last month – before Mr Neely was killed – for a hearing examining "victims of violent crime in Manhattan".
Democrats and racial justice advocates counter that Republican messaging around restoring "law and order" plays on deep-seated racism.
Jumaane Williams, a Democrat who is New York City's public advocate, said of the Republicans: "They have a playbook of winning elections that is based on really tapping into the worst parts of human nature and really driving it home with division and fear.
"And, if there's race and class played into it, then it's like Christmastime for them."
Mr Neely, known by some commuters as a Michael Jackson impersonator, had a history of mental illness and had frequently been arrested in the past. Bystanders said he had been shouting at passengers, begging for money and acting aggressively, but did not touch anyone aboard the train.
Christopher Borick, director of the Muhlenberg College Institute of Public Opinion, said Republican presidential candidates see Penny's cause as a way to excite their party's base.
"There's very little downside within the Republican electorate, given that it overlays so nicely with the issues that are incredibly salient among Republican voters in terms of law and order and fitting this narrative about the degeneration of urban life," Mr Borick said.
"That's the message – Trump's and his bloc of Republicans' message – that the 'crazies' are a threat, and we have to do what we can to protect 'Americans' any way we can."
As for Democrats, representative Alexandria Ocasio-Cortez of New York tweeted before charges were filed that Mr Neely's "murderer" was being "protected", while "many in power demonise the poor".
New York Mayor Eric Adams called Mr Neely's death a "tragedy that never should have happened", but warned against irresponsible statements before all the facts are known.