A dissident Belarusian journalist who was pulled off a flight that was forced to land in the country and sentenced to eight years in prison says he has received a presidential pardon, the Belarusian state news agency reported.
"I literally just signed all the relevant documents that I was pardoned. This, of course, is just great news," Raman Pratasevich was quoted as saying by the news agency Belta.
Mr Pratasevich was convicted and sentenced on May 3 for organising unrest and plotting to seize power.
He ran a Telegram messaging app channel that was widely used by participants in mass protests against the disputed August 2020 election that gave authoritarian Belarusian president Alexander Lukashenko a sixth term in office.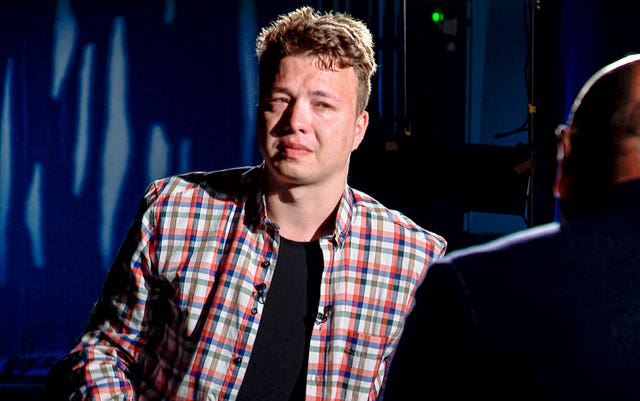 Belarusian authorities responded to the demonstrations with a brutal crackdown that saw more than 35,000 people arrested, thousands beaten by police and dozens of media outlets and non-governmental organisations shut.
Mr Pratasevich was living in exile at the time but he and his girlfriend were arrested in May 2021 when their Ryanair flight from Greece to Lithuania was ordered to land in Minsk, the capital of Belarus.
Belarusian authorities said there was a bomb threat but later said no explosives were found on board.
Western countries condemned the flight diversion as tantamount to hijacking and imposed strong sanctions against Mr Lukashenko and Belarus.
Mr Pratasevich subsequently made several confessional appearances on state television that critics claimed happened under duress. He was later released from custody and put under house arrest.
His girlfriend, a Russian citizen, was sentenced to six years in prison in May 2022.
Human rights organisation Viasna says nearly 1,500 people have been put behind bars in Belarus in connection with opposition activities.
That includes Viasna's founder, Ales Bialiatski, one of the 2022 Nobel Peace Prize laureates. He was sentenced to 10 years in prison in May.