President Joe Biden and House Speaker Kevin McCarthy were due to meet on Monday as talks continued on reaching a US budget compromise ahead of a June 1 deadline.
Talks in Washington on the debt ceiling to avert a federal default finished on Sunday with the Democratic president talking to the Republican speaker as Mr Biden flew home on Sunday from the G7 summit in Japan.
Mr McCarthy said the call was "productive" and that the on-again, off-again negotiations between his staff and White House representatives are focused on spending cuts.
"I think we can solve some of these problems if he understands what we're looking at," he said. "But I've been very clear to him from the very beginning. We have to spend less money than we spent last year."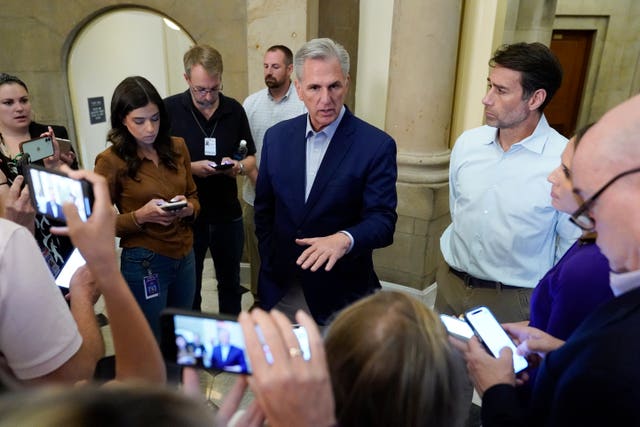 Treasury Secretary Janet Yellen said June 1 was a "hard deadline", after which the government could run out of cash to pay bills.
"We'll keep working," said counsellor to the president Steve Ricchetti as the White House team left the latest round of talks.
Before leaving the G7 summit in Hiroshima, Mr Biden warned House Republicans they must move off their "extreme positions" over raising the debt limit.
He said: "It's time for Republicans to accept that there is no deal to be made solely, solely, on their partisan terms."
The president had been scheduled to travel to Papua New Guinea and Australia, but cut short his trip in light of the strained negotiations.
Republicans want to roll back next year's spending to 2022 levels, but the White House has proposed keeping 2024 the same as the 2023 budget year.
Republicans initially sought to impose spending caps for 10 years, although the latest proposal narrowed that to about six. The White House wants a two-year budget deal.
"I think that we can reach an agreement," Mr Biden said. "I can't guarantee that they wouldn't force a default by doing something outrageous."