India and Australia announced a migration agreement and a green hydrogen task force as part of Indian Prime Minister Narendra Modi's visit.
Mr Modi and his Australian counterpart Anthony Albanese also said they expect to complete negotiations on a free trade deal by the end of the year.
The pair met after Mr Modi – the only leader of the Quad nations to make his scheduled visit to Australia after US President Joe Biden and Japanese Prime Minister Fumio Kishida cancelled – had addressed 20,000 cheering fans in Sydney.
His visit has been protested by activists who accuse his government of restricting Muslim and other minorities' rights, as well as press freedom.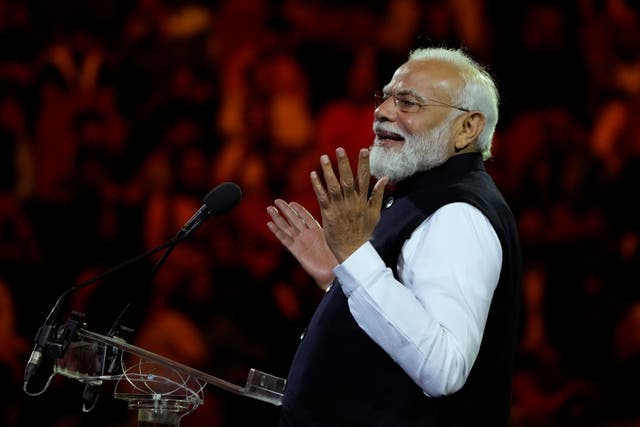 Mr Modi raised concerns about attacks on Hindu temples in Sydney with Mr Albanese, who said "strict actions" would be taken against the culprits.
"We will not accept any elements that harm the friendly and warm ties between India and Australia by their actions or thoughts," Mr Modi said in a joint press conference.
The pair's meeting on Wednesday "reinforced their commitment to an open, prosperous and secure" Indo-Pacific region, the Australian prime minister's office said.
The new migration agreement will promote two-way mobility of students, graduates, academic researchers and business people.
The prime ministers also agreed on the terms of reference on a bilateral Green Hydrogen Task Force that will promote co-operation on producing the gas without the use of fossil fuels, as well as announcing new diplomatic posts in Bengaluru, India, and Brisbane, Australia.
Mr Modi last visited Australia in November 2014, just months after his government was first elected.