Serbia put its troops on the border with Kosovo on the highest state of alert on Friday following clashes between ethnic Serbs and Kosovo police that left more than a dozen injured on both sides.
The Serbs in northern Kosovo, who represent a majority in that region, were trying to block the entrance of municipal buildings to prevent recently-elected ethnic Albanian officials from entering.
Police fired tear gas and several cars were set ablaze. In response to the clashes, Serbian President Aleksandar Vucic said that he put the army on a "highest state of alert".
Mr Vucic also said that he ordered an "urgent" movement of Serbian troops closer to the border with Kosovo.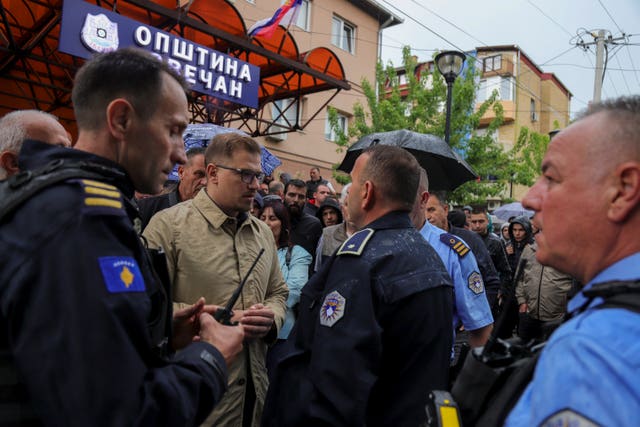 He said in a statement that because of "violence" against Kosovo Serbs, Serbia demanded that Nato-led troops stationed in Kosovo protect them from the Kosovo police.
Kosovo police acknowledged their increased presence in the north "to assist mayors of the northern communes of Zvecan, Leposavic and Zubin Potok to exert their right of work".
Police said five officers were injured by stun grenades and other hard objects thrown from protesters. A police car was burned while three others were damaged. Police also reported that shots were heard.
Police used tear gas to disperse the crowd and let the new officials into the offices. Kosovo Serb hospital officials said that about 10 protesters were injured.
In a tweet US Ambassador to Kosovo Jeff Hovenier condemned "the ongoing action by Kosovar authorities to access municipal buildings in the north of Kosovo. Today's violent measures should be immediately halted".
New mayors in three communes in northern Kosovo, which is mostly populated by an ethnic Serb minority, were prevented from entering the buildings with small groups of Serbs keeping their hands up at the entrance of the municipalities, apparently in a sign that they were not there to take part in violence, the Albanian indexonline.net website wrote, also showing photos.
In Zvecan, the Kosovo-online.com site showed clashes with police in front of the public building while in Leposavic they also had blocked the main square with cars and trucks.
Earlier, Serbs also switched on their alarm sirens in the four communes, including in the main northern Mitrovica town, in a warning sign and call to gather, "sirens which are used by criminal structures for mobilisation and gatherings", according to police.
The April 23 snap election was largely boycotted by ethnic Serbs and only ethnic Albanian or other smaller minority representatives were elected in the mayoral posts and assemblies.
Local elections were held in four Serb-dominated communes in northern Kosovo after Serb representatives left their posts last year in protest at the establishment of the association, which would coordinate work on education, healthcare, land planning and economic development at the local level.
With Kosovo's ethnic Serbs demanding autonomy, Kosovar Albanians fear that the association may turn into a new ministate like Srpska Republika in Bosnia.
A 2013 Pristina-Belgrade agreement on that plan was later declared unconstitutional by Kosovo's Constitutional Court, which ruled that it wasn't inclusive of other ethnicities and could entail the use of executive powers to impose laws.
The two sides have tentatively agreed to back an EU plan on how to proceed, but tensions continue to simmer. The association issue is among the main ones, for which both the US and the European Union are pressing Kosovo.
The US and the EU have stepped up efforts to help solve the Kosovo-Serbia dispute, fearing further instability in Europe as the war rages in Ukraine. The EU has made it clear to both Serbia and Kosovo they must normalise relations to advance in their intentions to join the bloc.
The conflict in Kosovo erupted in 1998 when separatist ethnic Albanians rebelled against Serbia's rule, and Serbia responded with a brutal crackdown.
About 13,000 people, mostly ethnic Albanians, died. Nato's military intervention in 1999 eventually forced Serbia to pull out of the territory.
Washington and most EU countries have recognised Kosovo as an independent state, but Serbia, Russia and China have not.