Russia's southern Belgorod region bordering Ukraine has come under attack from Ukrainian artillery fire, authorities said, hours after at least one night-time blast rocked a Russian city in a region next to the annexed Crimea peninsula.
The Kremlin's forces, meanwhile, struck a clinic in Dnipro in central Ukraine, killing two people and wounding another 23, including two children, Ukrainian officials said.
Also, a Russian S-300 missile hit a dam in the Karlivka district of Ukraine's eastern Donetsk province, placing nearby settlements under threat of severe flooding.
The Belgorod town of Graivoron, some 4.5 miles from the Ukrainian border, was under fire for several hours, with four houses, a store, a car, a gas pipeline and a power line damaged, governor Vyacheslav Gladkov reported.
The Belgorod region was earlier this week the target of one of the most serious cross-border attacks from Ukraine since the war began 15 months ago.
Details of the raid were murky, as Russia blamed the Ukrainian armed forces, but two Russian groups said they were involved, with the aim of bringing down Russian President Vladimir Putin.
Unconfirmed local reports said Friday's explosion in Russia's southern city of Krasnodar, in the region of the same name bordering Crimea, was caused by drones. Witnesses told local media they heard something like the sound of a moped and then two explosions.
Krasnodar Mayor Yevgeny Naumov said a residential building and an office building were damaged but there were no casualties.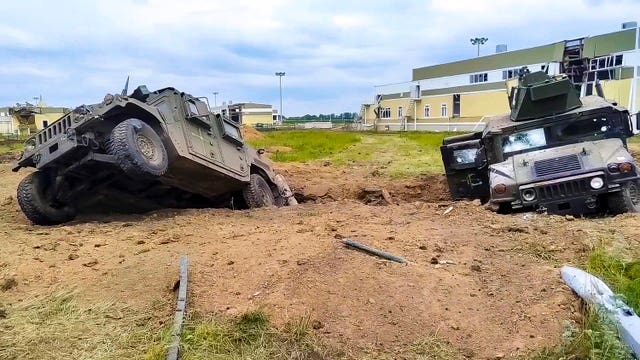 Earlier this month, an oil refinery in Krasnodar was attacked by drones on two consecutive days.
In another apparent incident of Kyiv's forces harassing Russia, Ukraine's defence ministry published footage on Thursday that appeared to show an unmanned drone boat attacking Russia's Ivan Khurs reconnaissance ship in the Black Sea.
The video did not show the drone hitting the ship.
The video followed claims by Russia's ministry of defence on Wednesday that Ukraine had launched an "unsuccessful" attack on the Ivan Khurs using three unmanned speedboats, with all three boats attacked and destroyed prior to reaching the ship.
Moscow released footage allegedly showing the destruction of one of the uncrewed boats.
At least two civilians were killed and three wounded in Russian attacks on Ukraine over the previous 24 hours, the Ukrainian president's office reported on Friday.