US President Joe Biden is set to kick-start his Ireland visit today, commencing a four-day visit.
The President's itinerary has already been outlined, with Biden touring a number of locations including a visit to Co Louth, where his great-grandfather James Finegan was born. And, though it has yet to be seen, 'The Beast' presidential car could be used to shuttle Biden around. Here, we're taking a look at what this incredible car has to offer.
When was 'The Beast' name introduced?
'The Beast' name first appeared back in 2001 with the arrival of President George W. Bush. That car was an entirely ground-up built model, incorporating many of the functions that are fitted to the modern version.
It's a name that would stick, too, and has continued through to the present-day vehicle.
What is the current model based on?
The current model is made by General Motors (GM) in the United States and debuted in 2018. Though many of the details about The Beast's underpinnings are scarce, it's believed to be based on one of GM's larger trucks, albeit equipped with more car-like features similar to those found on the Cadillac Escalade.
Does it have any cool features?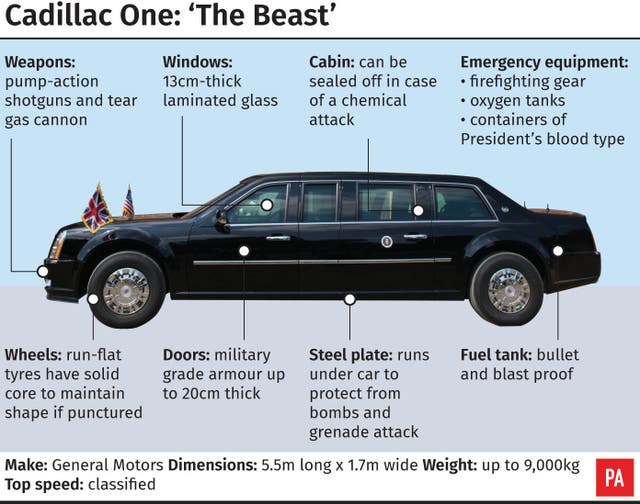 The Beast is jam-packed with features. It has been designed to deliver the best possible protection for the President. As a result, it has 13cm-thick laminated glass for the windows, run-flat tyres with a solid core to ensure that they can still roll when punctured and 20cm thick military-grade armour for the panels.
Plus, the fuel tank is bullet and blastproof, while emergency equipment includes firefighting gear, oxygen tanks and containers of the President's blood type.
Where has it appeared recently?
The Beast is often used for some of the President's key visits and was used back in September 2022, by Biden for the state funeral of the Queen.
The Beast was also used during Biden's first visit to the UK in June 2022 after being named as president.
Have previous presidents been driven in 'The Beast'?
Yes. Over time, The Beast has evolved and changed to include more high-tech features, but all presidents since George W. Bush have used a version of it. President Obama was driven in The Beast on numerous occasions, while President Trump was also a frequent passenger in it.
In fact, Trump made a notable appearance in 'The Beast' when it was used for a spin around the famous Daytona 500 racing circuit.