England's decision to forego the nightwatchman option surprised everyone and then backfired badly when Jonny Bairstow fell to the last ball of day one at the SCG.
Both Dawid Malan, who finished unbeaten on 55 after sharing a stand of 133 with Joe Root (83), and Australia all-rounder Mitch Marsh were taken aback at the sight of Bairstow marching out with little more than five minutes left.
Root yet again failed to convert his fifty into a century – for an implausible 16th time in his last 19 attempts – and then England's frustrations were compounded when Bairstow was caught behind off Josh Hazlewood to leave them 233 for five in this final Ashes Test.
Malan had just seen his captain fall to the third delivery with the second new ball – well-caught by a diving Marsh at square-leg off Mitchell Starc – and was then joined by Bairstow, who chose to go in ahead of Mason Crane even though the debutant was padded up to take the flak.
Nightwatchmen are routinely deployed if a wicket falls in the last half-hour of play, and Malan said: "I was a little bit (surprised). But the decision is not the coaches' to make – that's down to the batsman in next to make."
If there was an element of bravado from the Yorkshireman, he soon had cause for regret.
"Jonny made that decision – and good on him," added Malan.
"It takes a lot of guts to go against what people normally do.
"He probably felt he was better suited for that new ball (than a nightwatchman)."
Malan would have taken a different decision.
"I'll have a nightwatchman every time if there's an opportunity given to me – and it'd be an hour out as well!" he said, with a smile.
"(But) each to their own. You can't really look back and say he shouldn't have.
"He did it, he backed himself … and he got out. It's pretty simple."
Bairstow's arrival shocked, and soon delighted, Marsh.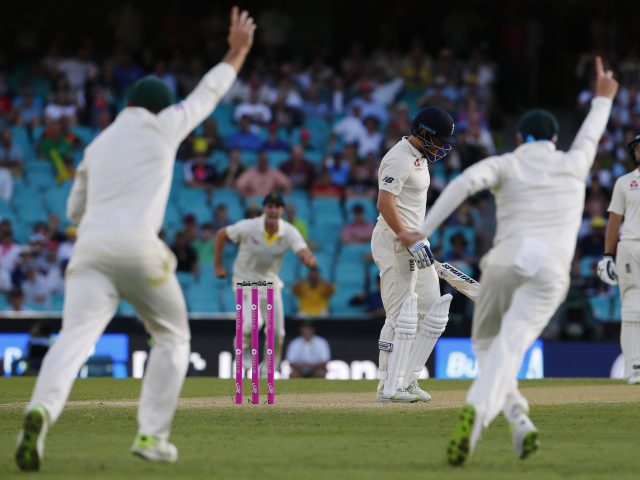 "I was very surprised," he said, confirming he like Malan would have taken the safer option himself.
"In the end I'm pleased (as well), yes. Obviously if he bats out that last over and is not out tomorrow and gets going … but I've played three games this series, and I think 'Lyno' (Nathan Lyon) has padded up about six times for me!
"So I'd have had the 'nighty'.
"I think with the new ball, it's probably even more so. But it wasn't our decision."
Root's late departure was bad enough for England.
"(It's) definitely (frustrating)," said Malan.
"I think it sort of sums up where we've been on this tour.
"We've been on top for so long in games, and we make one or two mistakes – and suddenly let the Aussies back in.
"I thought Rooty played fantastically well to get to that position … and to be five down now, after the hard work we put in, is obviously not ideal."
It was the fourth time in this series alone that Root has counted 50 but not three-figures.
Malan added: "The amount of fifties he does score, in his own mind he'll probably be disappointed he doesn't convert more.
"(But he) still averages 53 or 54 in Test cricket, and the day will come when he does start converting them as well as (Australia captain) Steve Smith or the other greats have done.
"When that happens it will be scary to see how high his average can jump to."