Marcos Alonso's form over December and early January makes him a Fantasy Premier League must-have.
Press Association Sport has produced a new "Form Score" assessing the performance of all players in the league over the last six games, based on points scored, cost and FPL's bonus points system.
Alonso's three goals, an assist and four clean sheets in that time mean he has scored no fewer than six points in any of those games, seeing him fractionally ahead of Manchester City's Raheem Sterling (five goals, three assists) at the top of the form charts.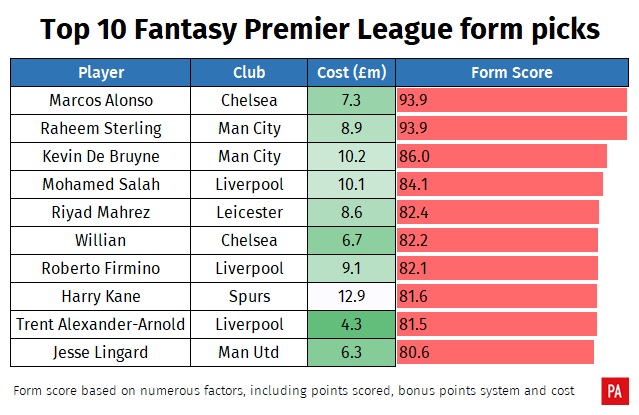 Kevin De Bruyne, a virtual ever-present in the league this season and one of the key's to City's dominance, follows his team-mate in third on 86.0 while Premier League (and FPL) top scorer Mohamed Salah – who at one stage led the backdated tables for five straight weeks – is next at 84.1.
Further down the top 10, mixed in with the likes of Harry Kane and Roberto Firmino, there are a couple of interesting names to be found.
Riyad Mahrez is back to the form which brought him the PFA player of the year award and Leicester the Premier League title in 2016, while Jesse Lingard continues to excel for Manchester United at just £6.3m.
Chelsea's Willian (£6.7m) scores 82.2 – just behind Mahrez – but bear in mind that the Chelsea midfielder's total is based almost exclusively on his goal-and-two-assists performances against both Stoke and Huddersfield. The Town game will drop out of the calculation after this week.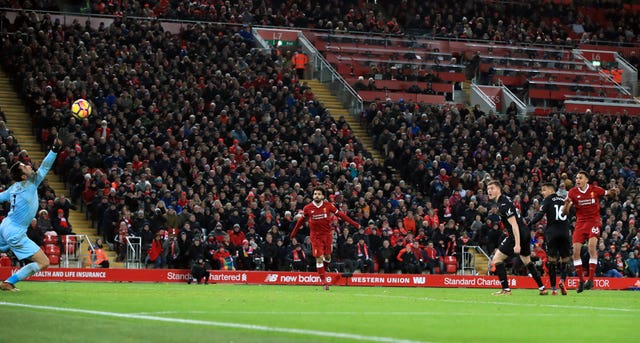 His average score in the system underpinning the bonus point awards is comparable to De Bruyne in the latter stages of City's 18-match winning run, suggesting his form is sustainable. He will not play every week but pick him up cheaply, start him and have a reliable substitute on standby.
Brighton's Pascal Gross is the cheapest outfield player with 100 points to his name, while Bournemouth midfielder Andrew Surman and Swansea forward Jordan Ayew also stand out as pound-for-pound stars.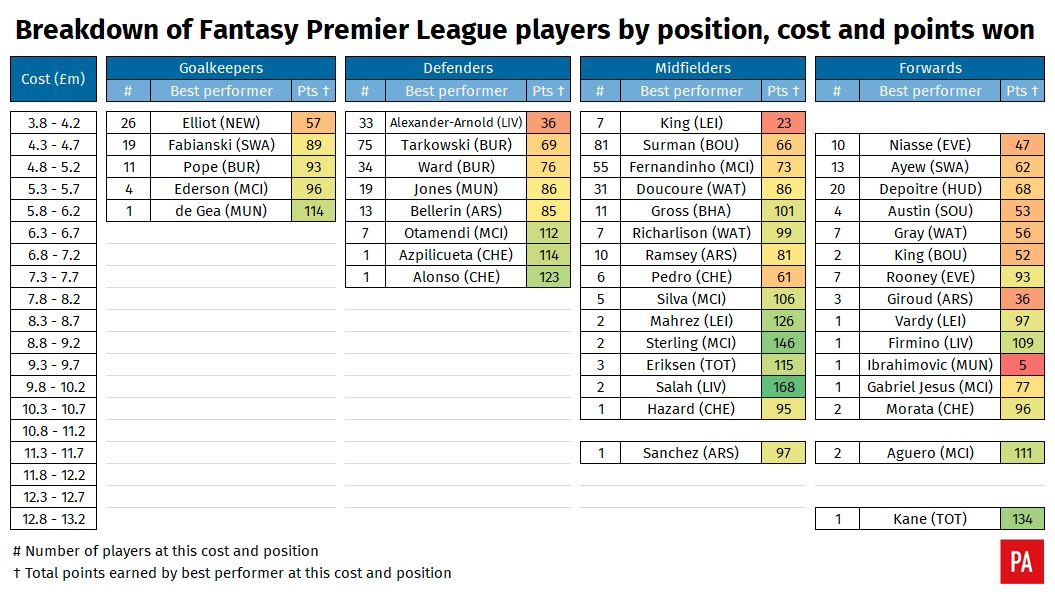 There is further encouragement for Alonso and co with Chelsea topping our chart of expected points over the next three games. Leicester, Brighton and Bournemouth are not the most threatening opponents, while City have to go to Liverpool on Sunday and Manchester United and Tottenham meet on January 31.
West Ham have a favourable run – simulations based on bookmakers' odds average out to a projected 4.59 points over their next three games – meaning Marko Arnautovic and, fitness permitting, Aaron Cresswell and Andy Carroll could be tempting pick-ups.