Michael Joyce has no doubt his new charge Johanna Konta is capable of winning a grand slam.
American Joyce linked up with the British number one during the off season following her split from Wim Fissette.
The Australian Open will be their first grand slam tournament together, with Konta among a remarkable number of players considered in the frame for the title.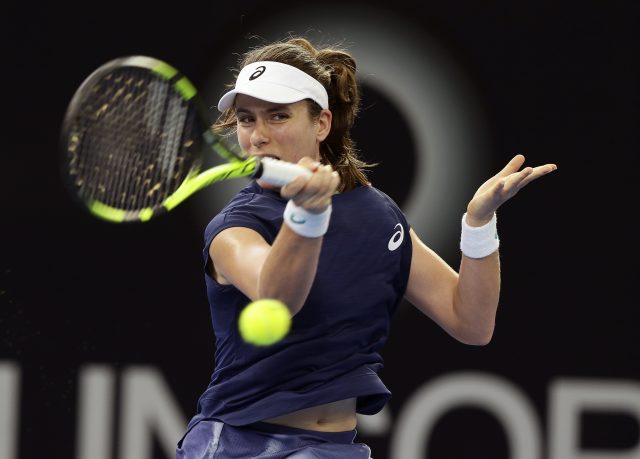 Reigning champion Serena Williams is missing her fourth slam in a row and Joyce sees no reason why Konta cannot be the one to step out of the pack.
He said: "Women's tennis has changed a lot in the last 10 years. I feel the top 10 maybe aren't as good as the top 10 was 10 years ago. When I was with Maria (Sharapova), you had Serena and Venus, (Lindsay) Davenport and (Kim) Clijsters and (Justine) Henin. But I feel girls that are ranked 40, 50 are a lot better now.
"Jo has proven she belongs in the top 10. She's had some great results, winning Miami, and she's been close at some of the grand slams. I have no doubt that – her game and where she is – she can win a grand slam."
A 44-year-old who reached a high of 64 in the rankings during his playing career, Joyce was the long-time coach of Sharapova during the first part of her career and worked last season with Victoria Azarenka.
That arrangement came to an end in November, with Azarenka mired in a custody dispute over her young son and unwilling to travel, and Konta announced the new partnership a week later.
After a few weeks training at the National Tennis Centre in London, Joyce refused an offer of a week at home with his family over Christmas to travel with Konta to an exhibition in Thailand.
An encouraging first tournament of the season in Brisbane was cut short when Konta retired during her quarter-final against Elina Svitolina with a hip injury.
Thankfully that turned out not to be anything serious and she was able to defend her title in Sydney but lost in the first round against Agnieszka Radwanska and Joyce is very confident the partnership will turn out to be a success.
He said: "Before we agreed to work together I spent a lot of time watching her matches from the last few years. I like the way she plays and I feel I've had good success with those type of players.
"I felt it would be an easy transition and then I was pleasantly surprised once we did start working together. She's such a hard worker and she listens, she wants to get better, she wants to learn."
Konta begins her Australian Open campaign against American Madison Brengle.