Johanna Konta disagrees with Margaret Court's views but will not be protesting if she is scheduled to play on Margaret Court Arena.
Martina Navratilova and Billie Jean King have both said they would refuse to play on the Australian Open's third biggest court because of Court's public statements on LGBT issues and same-sex marriage.
The issue was always likely to be a topic of conversation, but has risen back to the top of the tennis news agenda after King's strong statements on Thursday.
Sitting next to tournament director Craig Tiley at a press conference in association with the Australian Open's new equality initiative, King explained why she feels the stadium's name should be changed.
The players have been placed in a difficult position and Konta was one of the few willing to really engage with the subject at her pre-tournament press conference.
The British number one said: "I don't agree with what Margaret Court said. However, she's entitled to her own opinion. But in terms of playing, if I'm scheduled to play on Margaret Court, I will go out there and compete. It's a tournament decision where they put me."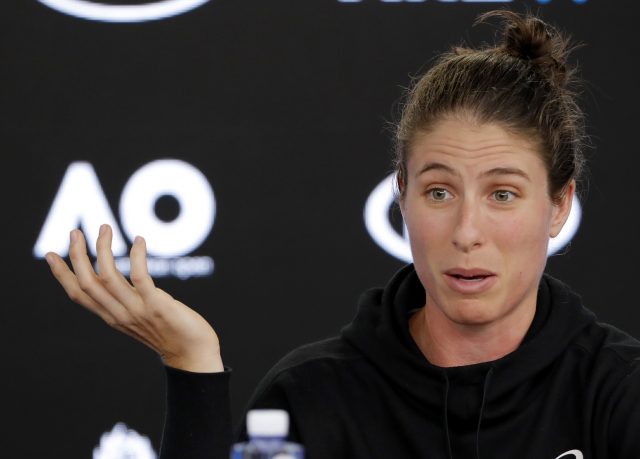 Court won a record 24 Grand Slam singles titles, with a further 40 in doubles, and King was one of the strongest advocates for her former rival to have a court named after her.
"I think it's unfortunate that this whole thing has even occurred, because it does overshadow why her name is on the court," said Konta. "It's not because of her beliefs, it's because of her achievements in the sport. They're actually quite separate.
"It's not nice to be answering these sorts of questions. It's not really what this tournament is about. It's not what these sorts of sporting events are about. They're about equality, they're about showcasing men and women, wheelchair tennis; celebrating tennis in that way."
Konta goes into the Australian Open as the ninth seed and reported a clean bill of health after the hip injury that forced her to retire in Brisbane last week.
The 26-year-old is Britain's big hope for success following the withdrawal of Andy Murray and she backed the Scot to come back strongly.
Murray had surgery on his troublesome right hip in Melbourne earlier this week and has targeted a return for the grass-court season.
Konta said: "I think it's sad not to have him here. It's nice to see he had such a positive message after he went in for his surgery.
"If anybody is going to be back at the top of their game, it's going to be him. His drive and passion for this sport is second to none. I like to think he'll be back, while I'm shouldering the burden."