Federico Fernandez feels Swansea have discovered the belief to survive in the Premier League.
Swansea boosted their bid to beat the drop by upsetting Liverpool 1-0 at the Liberty Stadium on Monday night.
But the win did not come without pain for Fernandez, who needed two stitches in a nasty nose injury after clashing heads with Alfie Mawson during his fellow defender's goal celebration.
"I broke it a long time ago, so it does not look good," Fernandez said.
"I think it was Jordan (Ayew) who jumped behind me and Alfie's head was a little bit too close to me and I hit him.
"It's not something you want to hit too hard!
"It hurts a bit after the stitches, it's not too bad but it will probably hurt more over the next couple of days.
"But it does not hurt when you win, and that was very big for us.
"We are only three points from safety and we can do it."
Swansea remain bottom of the table but are now level on points with West Brom and only three adrift of Newcastle in 15th place.
Carlos Carvalhal's arrival has instilled belief that Swansea can pull off an escape act in the second half of the season, the Portuguese manager having taking seven points from his four league games in charge.
"The boss gave the clear message from the first day," Fernandez said.
"He wants to help us on the pitch and it is working at the moment.
"We are more aggressive and we need that, we must believe.
"It was a big effort and that is what we are going to need, but we have not achieved anything yet and we need to keep going."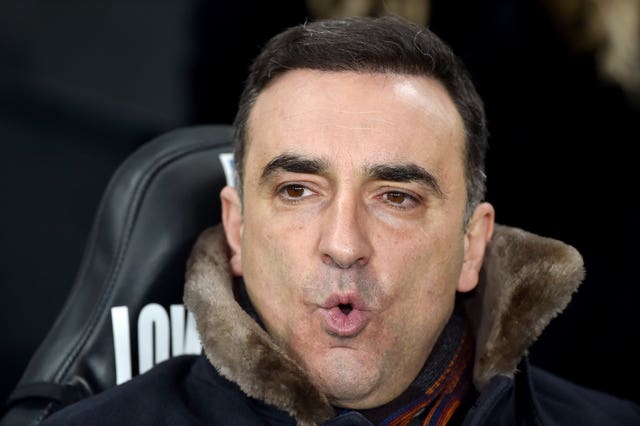 And Dutch midfielder Georginio Wijnaldum called on Liverpool to brush off their Swansea setback.
"We were not lucky in the finishing. You have those games," Wijnaldum told Liverpoolfc.com.
"We must keep the confidence and look forward.
"But it was only because we did the things we had to do on the pitch, we were 100 per cent concentrated and we were sharp from the first minute.
"That's what we have to do again."