New England Women head coach Phil Neville will avoid punishment from the Football Association over tweets which Kick It Out branded "misogynistic and sexist".
FA chief executive Martin Glenn said the historical comments from Neville did not "meet the threshold for issuing a charge".
That means 41-year-old Neville at least avoided the uncomfortable situation of facing disciplinary action from his employers on his first full day in his new job, but criticism of the former England defender and the FA itself rained in on Wednesday.
An apology from Neville was drowned out by a chorus of disapproval of the decision to appoint him, given his complete lack of experience in the women's game, and by many who considered his Twitter comments distasteful.
Glenn was responding to Kick It Out, the anti-discrimination campaign group, which questioned whether Neville should be called to account over his comments.
Neville tweeted in 2012 he did not expect women to have read his posts in a morning because they would be "preparing breakfast/getting kids ready/making the beds".
It was also widely reported that in 2011 he tweeted he "just battered the wife!!! Feel better now!".
Kick It Out chief executive Roisin Wood highlighted cases of the FA taking retrospective action over social media posts, and said: "The question must now be asked – will the FA be charging Neville for posting discriminatory comments on social media?"
Wood labelled Neville's remarks "misogynistic and sexist", but Glenn stressed they were not sufficiently serious for a charge to follow.
In a letter to Wood, Glenn said the FA only learned of some of Neville's tweets on Tuesday.
Glenn added: "I can also confirm that the assessment of the FA's integrity/regulatory team is that those comments would not meet the threshold for issuing a charge against any participants but as part of the induction process, Phil will be educated on all aspects of the FA's regulatory functions and his responsibilities thereunder.
"He will also be warned that any future comments that are deemed to cross the charging threshold will be treated with the utmost seriousness and may lead to disciplinary action."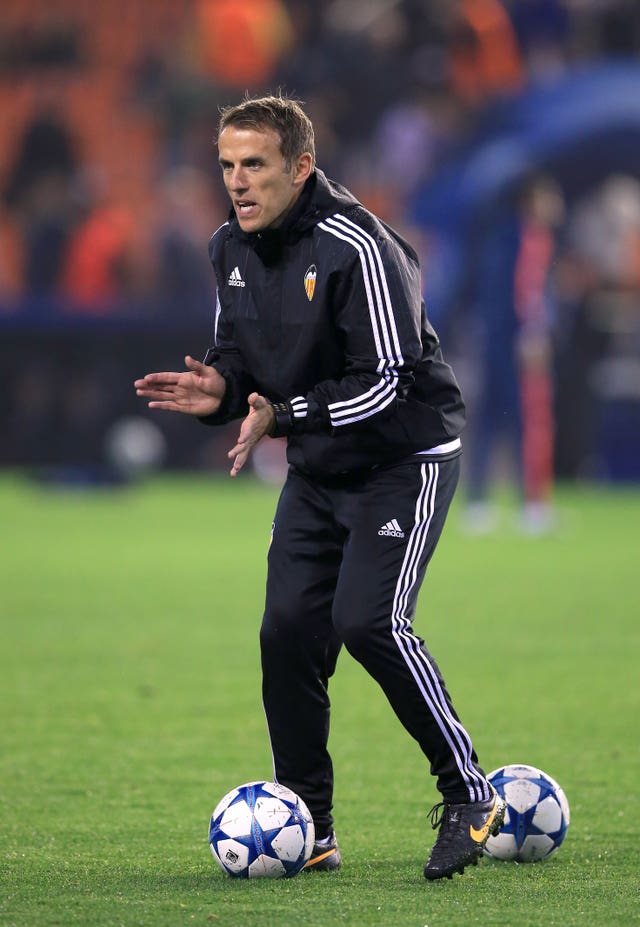 Women's Aid joined in the condemnation, with its campaigns and public affairs manager Sian Hawkins saying: "What can all too easily be passed off as banter, can actually be extremely harmful."
Former Manchester United player Neville was selected by the FA when a host of highly-qualified candidates withdrew from contention. Glenn said that from 145 candidates, it cut the contenders down to a list of four, two of whom were were female and all of whom decided against pursuing their interest in the job. The FA then turned to Neville.
In a statement released on an FA Twitter account – he voluntarily deactivated his own – Neville said: "Following comments made a number of years ago I would like to clarify that they were not and are not a true and genuine reflection of either my character or beliefs, and would like to apologise."
Neville's wife Julie defended her husband in an Instagram post, describing him as "the most honest, kind, generous, gentle and hard-working man I have ever met".
Sports minister Tracey Crouch said the FA needed to show transparency, welcomed Neville's apology and said: "Sexism of any kind must not be tolerated."