The gaps in Phil Neville's knowledge about women's football were highlighted on Monday when he struggled to name who is leading the domestic league for goals or assists.
The 41-year-old was meeting the press at the National Football Centre for the first time since last week's announcement.
Having skillfully handled questions about sexist tweets from his past and a lack of managerial experience, most particularly in women's football, the ex-England, Manchester United and Everton star stumbled over a quiz question.
When asked if he could name the players with the most goals or assists in the Women's Super League, Neville froze.
Having received a few clues, he still could not do it but did say "it's not Izzy", as in Manchester City's Izzy Christiansen, which is the correct answer for the leading scorer.
"I don't know every facet (about the women's game) but I will," he admitted.
"When I went to Spain (to coach Valencia), I knew three players. I didn't know the language, didn't know La Liga. But after three months, I knew the language and every player and everything about Spain."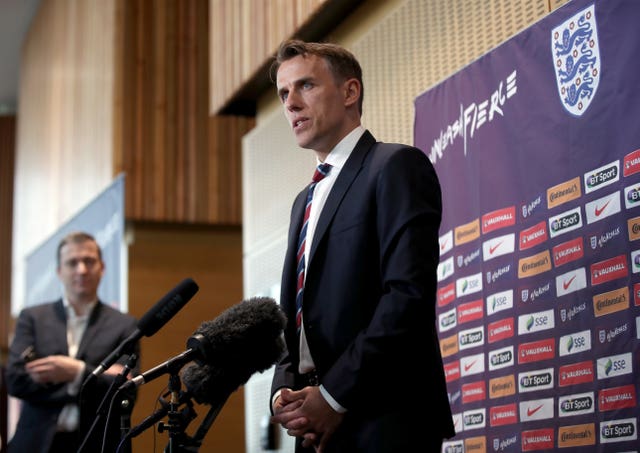 An example of the former came when he revealed the first text message he received after his appointment was announced last Tuesday evening.
"At 6.01pm, I got a text from another coach saying 'race you to number one' – that was my sister Tracey," he said.
"She's third in the netball world and has to get to number one, I'm third in the world as women's football coach, so I have to get number one. It's the race in our family now.
The improvement from 14th was achieved under Neville's predecessor in the role, Mark Sampson, whose time in charge catastrophically unraveled last year amid claims of bullying, racism and inappropriate behaviour in a previous job.
Despite only managing three games in his coaching career, all on a caretaker basis, Neville said he believes he was the "best qualified" to pick up the reins because of his experience as a player and coach in elite football.
Saying that "finishing third is not in my mind", Neville mapped out England's path to World Cup glory in 2019, followed by gold for Great Britain at Tokyo 2020 and Euro glory in 2021.
There is no escaping the fact, however, that he was not identified by the FA in the original trawl of talent that came up with a 140-strong long list or the short list that was first reduced to 30 names, then six, then three.
Neville denied he got the job by default when others turned it down and said he came through a rigorous three-week interview process.
Pointing to the fact he has a UEFA Pro Licence qualification, Neville said it means he can work in any form of the game and the messages he will be giving England's female stars will be the same as the ones he gave his charges at United and Valencia.
He also promised to "push them further" after they "looked me in the eye and agreed they can do more" to overhaul Germany and the United States, the two top sides in women's football.
When asked if he would then be a strong candidate for the men's job, Neville laughed and denied that he has ever referred to this role as "a stepping stone" to anywhere.
"I've got a car parking space out there, the space next to Gareth Southgate's, so ultimately I've got the next best job," he said.
"I have to succeed in this job and that means by winning. Finishing third at the World Cup won't be good enough for me and won't be good enough for these players. That's the kind of scrutiny I'll be putting myself under."