Joe Schmidt has ordered Ireland not to rely on Johnny Sexton to dig them out of trouble again in the NatWest 6 Nations.
Head coach Schmidt admitted he will drum home the message that Ireland cannot afford to let Test matches slip away, after Sexton's last-ditch drop-goal
stole a 15-13 win over France in Paris.
France caught Ireland cold with Teddy Thomas' converted try edging Les Bleus into a late 13-12 lead, only for Sexton's added-time drop-goal to
save the day.
Ireland ploughed through close to 40 phases before Sexton dropped the winning goal, and while Schmidt hailed his talisman's nerves of steel, he
conceded his side can ill afford to leave victories so late in future.
"We can't leave matches in the balance," said Schmidt.
"You've got to make the most of advantages and get the points you need.
"One freakish event, and one freakishly good player in Thomas and his try can undo all that hard work.
"That's something we're disappointed with and we've got to do something to make sure that doesn't happen next week, and for the following weeks
of the championship."
Schmidt revealed Ireland's coaching staff turned into supporters, cheering and jumping around when Sexton slotted the winning goal.
Sexton himself was mobbed by his team-mates on the Stade de France field, and Schmidt hailed the British and Irish Lions star for fending off fatigue
and cramp to seal Ireland's nail-biting triumph.
"It's hard to explain how you feel when you think the game's gone away, you've let it slip and suddenly you've grabbed it back," said Schmidt.
"It was an incredible team effort. It's fairly inspirational.
"We felt we got very close to earning some reward, but it was very slow ball and then we didn't appear to be getting much chance. And when Johnny
struck the drop-goal I was just willing it to have enough distance.
"It looked it might, and when it did, as a coaching team we all stood up as one and probably cheered with the other Irish supporters who were in
the stadium.
"Maybe people underestimate how hard it is to come here and win.
"Johnny has hit a few drop-goals in his time, but not many. And I don't think he was really thinking too much about history, he just stepped and
seized the moment and he did it with absolute aplomb.
"That's credit to a man who was struggling a little with cramp and fatigue.
"But his clarity of thought and ability to win those big moments is second to none."
Ireland will roll on to face Italy in Dublin next weekend, but must do so without Josh Van der Flier, who has suspected knee ligament damage.
France were left to rue a demoralising defeat inflicted from the jaws of victory in Jacques Brunel's first match at the helm.
Matthieu Jalibert and Antoine Dupont suffered knee injuries, with Brunel insisting France had no control over both playmakers undergoing Head Injury
Assessments (HIAs).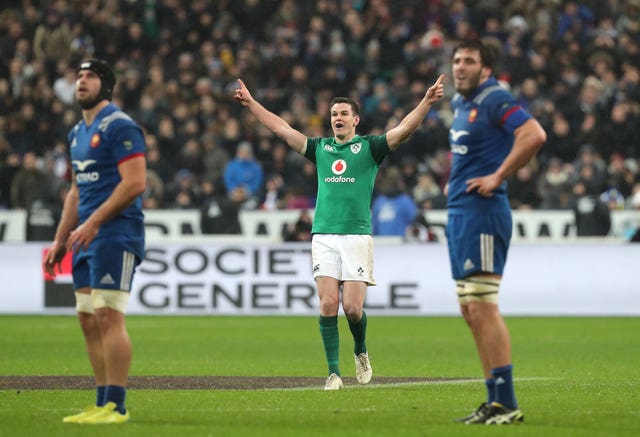 "Both players had knee injuries, but the independent doctor decided that by the protocol."