Wafts of propaganda music blend with bird-song in the Demilitarized Zone, a four-mile wide stretch which has split the Korean peninsula since 1953 and runs just 50 miles north of the Winter Olympic host city in Pyeongchang.
Planted with over two million landmines, the DMZ exists as palpable physical evidence of the wedge which was driven between the two Koreas at the end of the countries' devastating three-year war in 1953.
Tensions in the DMZ have remained high since a North Korean officer staged a dramatic defection in November, ramming his jeep through the Joint Security Area, and the announcement by Kim Jong-un that North Korean athletes will attend the Games was greeted with surprise.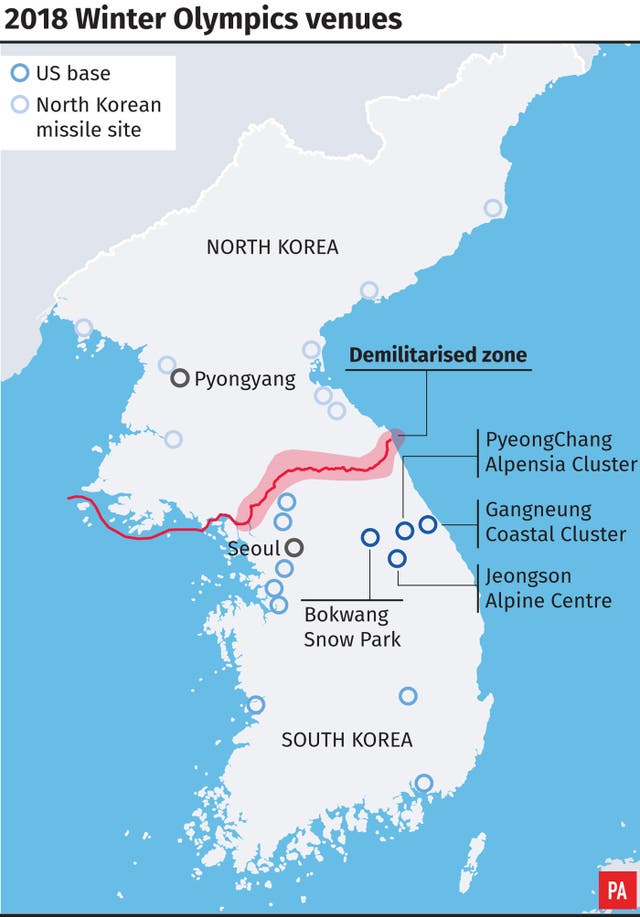 But while the subsequent decisions for the two nations to march under a unified flag at the opening ceremony and field a mixed women's ice hockey team have split opinions in South Korea's capital Seoul, both sides appear united in cynicism over the impact the Olympics can have on long-term peace.
Sokeel Park is the director of research and strategy at Liberty In North Korea, a leading charity which focuses on the rescue and rehabilitation of North Korean refugees, and which seeks to broaden the narrative that exists about the notoriously enclosed nation.
Park told Press Association Sport: "A lot of young South Koreans are saying, 'we don't really care, and we shouldn't even sacrifice female ice hockey players for this symbolism'.
"If people thought it was meaningful and was going to take it where they wanted it to be, they would think, 'let's take this one for the team'.
"In Sydney a lot of people were very expectant, the symbolism was very strong and resonated with people. But eighteen years and 10 times later there have been so many false starts, so you can forgive the cynicism of young South Koreans.
"It's like your mate who is always breaking up and getting back with his girlfriend. It may give some warm and fuzzy feelings, but it's a matter of time before the military drills resume and the North Koreans react, and we'll be back to square one by the summer."
Central to the work of Liberty In North Korea is the aim to change the perception that North Koreans are necessarily ignorant of the outside world.
The charity's videos reveal a different side to the state, with young defectors revealing how western movies smuggled in from China on laptops and memory sticks have begun to foster a burgeoning – if strictly illegal – capitalistic economy.
Park added: "It's not going to change North Korea, but 200 North Koreans coming to South Korea is better than none. They will be briefed and debriefed and it's not like they are going to be able to go back and change their country, but you can't stop people from learning things."