Claude Puel insisted neither he nor any of the Leicester squad have a problem with Riyad Mahrez after the playmaker came off the bench during the 5-1 defeat by Manchester City.
Mahrez only returned to training on Friday after a self-imposed 10-day absence following the blocking by Leicester of a move to Manchester City, during which he missed games against Everton and Swansea.
Puel had said on Thursday that Mahrez would not play at the Etihad Stadium but named him on the bench and brought him on with nearly half an hour to play, although it was to no avail as the Foxes were heavily beaten.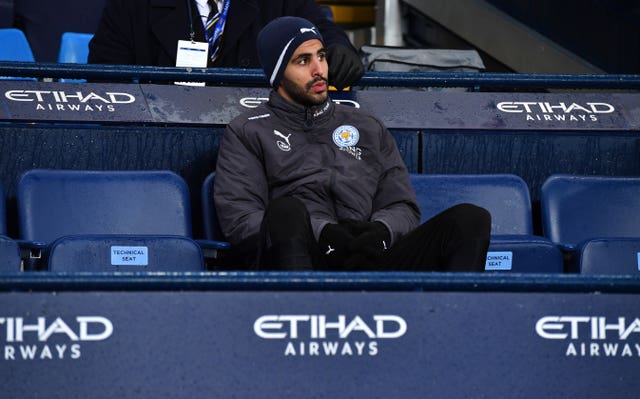 Puel said: "He maintained a good level, a good fitness, alone and it was important he came back quick. We have lost time and now it's important to look forwards.
"The transfer window is finished and he put (things) right (with what) he said. Of course we are stronger with our best player.
"He made perhaps a mistake. Riyad is a valuable player for the team, other players have welcomed Riyad with a good feeling. No problem with Riyad, no problem with other players. We are a squad and now it's important to move forward together."
While the pre-match headlines were about Mahrez, Sergio Aguero ensured he dominated the post-match ones by netting four second-half goals after Jamie Vardy had cancelled out Raheem Sterling's early opener.
The result emphatically ensured City returned to winning ways after the minor blip of last weekend's draw with Burnley.
City boss Pep Guardiola said: "First half we started good with the first goal. After that we were not in the right positions to play quicker. To be in a good rhythm, everyone has to be in the right positions and they are so dangerous on the counter-attack.
"Of course the second half it helped us a lot to score in the first minutes and after that we controlled all the game and we made a good performance. When one guy is able to score four goals, he deserves all the credit, he deserves all the nice words.
"He fought, he played really good and he scored four goals and it's so important. We needed it. In Burnley we missed a lot of chances and today after the second, and especially the third, we were there.
"We are strong at home. We dropped just one game here against Everton so we feel comfortable and we feel we can do it. It's so important for the next games left."
Puel switched from five at the back to four after Vardy equalised, and admitted that may have been a mistake.
He said: "We tried to adjust to find a little more solidity because we conceded a lot of chances. I don't know if it was a good thing, perhaps no, because we conceded other goals. But it's not the system that makes the difference. I think it's the quality."