Huw Jones admitted last week's humiliation at the hands of Wales was a learning curve for the Scotland players before they turned in a gutsy performance to beat France.
On the back of a 34-7 thrashing in Cardiff last week, the pressure was on Scotland to produce a more competitive effort against Les Blues only for the hosts to suffer a nightmare start in Edinburgh.
Teddy Thomas scored twice early on as France stormed out of the blocks and looked likely to condemn Scotland to another meek defeat, but, led by Greg Laidlaw – who kicked 22 points – they fought back to eventually claim a 32-26 victory to put them back in contention in the NatWest 6 Nations.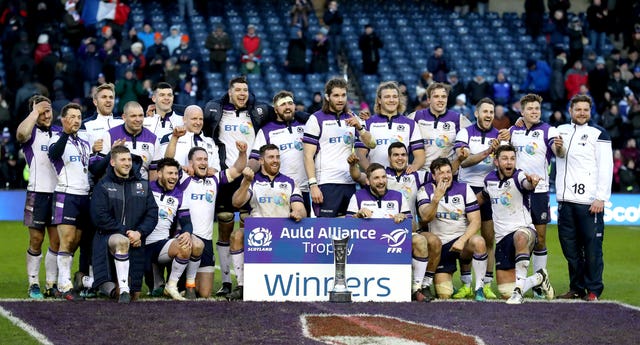 "I think we learned a lesson in that you can go down a couple of tries early on but there is still plenty of time left to come back," he said.
"Greg was instrumental today. He brought a lot of calmness and obviously his kicking with the boot was spot on every time.
"His leadership really helped."
The defeat last week was perversely helpful to the Scots, who adapted their game well as the match went on to grind out a win that appeared unlikely after going 26-20 down with 20 minutes to go.
"I think it definitely helped to focus the guys," Jones said of the Wales defeat.
"That game last week brought us back down to earth a bit. We said we were confident going in and we were, but to take a loss like that really brought us back down, so the tension helped to refocus our minds and get us ready for another tough game."
Jones played a crucial role in the comeback, touching down for his eighth international try after picking a fine line from just inside the 22 to cut into a 10-point deficit after Sean Maitland had also scored for the hosts.
It was a welcome return to form for Jones, who prospered on his return to outside centre having shifted inside against Wales last week and he was pleased to combine with Glasgow team-mate Pete Horne.
"There has been a lot of hard work trying to get as many touches of the ball as possible," he said. "That's something I didn't really get last week.
"You saw the rewards of that work rate today."
He added: "I've only really played 13 at international level, but I really enjoyed playing outside Pete.
"He is like another playmaker and gives me opportunities to attack a little wider where I like to, so it was really good having him there today."