Mauricio Pochettino felt Tottenham dominated Juventus for 83 minutes after his side came from two goals down to snatch a draw in the Champions League last 16.
Spurs made a nightmare start in Turin as Gonzalo Higuain scored twice in the first nine minutes, the latter a penalty, to put Juventus in charge.
But Harry Kane pulled a goal back and Higuain missed a second penalty, before Christian Eriksen's free-kick ensured a pulsating contest finished 2-2.

Between their dreadful opening, and a moment of madness from Serge Aurier to concede the second spot-kick just before half-time, Tottenham were by far the better team at the Allianz Stadium and a draw was no less than they deserved.
"Only seven minutes were difficult to handle," Pochettino said.
"For 83 minutes we dominated Juventus and that is a thing to praise. Not many teams come here and dominate Juventus."
Juve had conceded only once in their previous 16 games and the club have reached the Champions League final twice in their last three seasons.
But this was a performance that showed Tottenham have not only the talent, but the strength of character to trouble Europe's elite.
Pochettino admitted he was fearing the worst after Higuain's early double.
"My feeling was so bad," Pochettino said.
"You never hope that happens, to concede the (early) goal. Maybe it was offside, but I don't want to complain.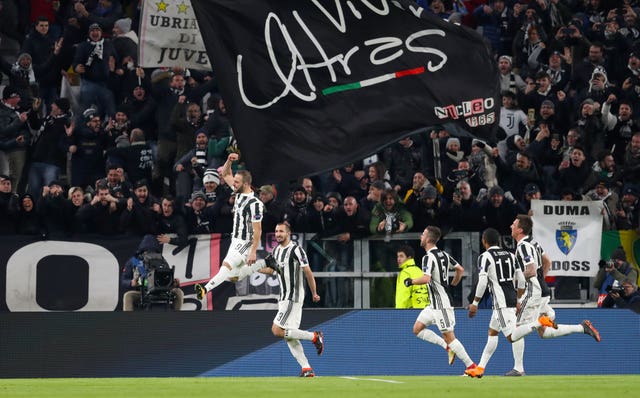 "We start a little bit sloppy. We need to be more solid. Then we concede a penalty, 2-0 down after seven minutes against a great team like Juventus with experienced players.
"Then it was to start another game and the team started to show the performances of the last few weeks. I feel so proud."
Kane notched his seventh goal of the tournament with a typically cool finish but it was the imperious Mousa Dembele and, in particular, Eriksen that were the stars of the show.
"Christian had an amazing game. He was outstanding," Pochettino said.
"He was fantastic but Christian, in my three years and nine months, has always been important for us, always stepping up, growing up.
"He represents our philosophy. He is a player who links the team and today he was great. The team was great but he was fantastic."
Tottenham will now take two away goals back to Wembley for the second leg next month and arguably stand as favourites to reach the quarter-finals.
In a passionate speech after the match, Juventus coach Massimiliano Allegri warned against an overly critical reaction.
"This really drives me nuts," Allegri said.
"The top priority of Juventus is (to win) the seventh league championships (in a row), which is a lot.
"We are making huge efforts and we are about to go through in the Coppa Italia, but if a draw like tonight you believe it could repress us that is something I don't accept.
"We have a draw against Tottenham in the Champions League and it is like a big loss. It is not like this.
"Juventus has never been favourites in this tie. We had 50 per cent possibility before the match and we still have that after this match."