Ryan Mason insisted he had done "everything in my power" to play again after conceding defeat to the fractured skull injury he suffered in January 2017.
Hull midfielder Mason – who was capped once by England against Italy in 2015 – suffered a sickening clash of heads with Chelsea defender Gary Cahill at Stamford Bridge 13 months ago.
Mason described the injury as "life-threatening" and said the decision, from a medical point of view, was a "no-brainer".
The 26-year-old has been inundated with well-wishes on social media after announcing his retirement on Tuesday morning, with Hull, former club Tottenham and Chelsea among those paying tribute alongside Gary Lineker and the England national team.
"I have worked tirelessly in order to be able to return to the pitch.
"Unfortunately, having taken expert medical advice I now have no option but to retire due to the risks involved given the nature of my injury.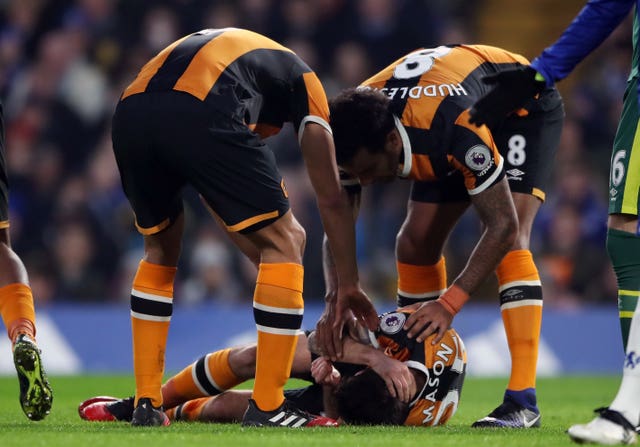 "There are too many names to mention when it comes to talking about Tottenham Hotspur but I would like to say a special thank you to John McDermott (head of coaching and playing development), the gaffer (Mauricio Pochettino) and everybody at Spurs for helping me to achieve my dreams.
"I am so proud to have come through the ranks to play for my club, the club I love. To have had the honour of captaining the team fills me with immense pride.
"Finally, representing my country is an honour that nobody can ever take away from me and something that I am so proud to have achieved."
Mason also expressed his gratitude to Hull, whom he joined in August 2016 for around £13million after making 70 appearances and scoring four goals for Tottenham.
"I'm really disappointed for him," Hull manager Nigel Adkins told the official club website.
"The injury was before my time here but Ryan's worked extremely hard and he's given everything he can to continue playing.
"He's taken a lot of advice and unfortunately it's not nice when you see somebody retire.
"But the consequences of the injury were so significant that he's fortunate to be where we are at this moment in time.
"We wish him well and he's always going to be welcome here at Hull City."
TV presenter and former England and Spurs striker Lineker led the tributes to Mason, tweeting: "A real shame for an extremely talented footballer. Wish @RyanMason all the very best.
The official England Twitter account said: "We'd like to wish the very best to @RyanMason, who has sadly announced his retirement from football. Ryan made his #ThreeLions debut in our 2015 clash with Italy, having previously played for the #YoungLions at U19 and U20 level."
Ray Clemence, the former England and Tottenham goalkeeper, added: "So sad to hear of @RyanMason enforced retirement. I wish you all the best in whatever you decide to the future. Be strong and positive #spursfamily"
Headway, the brain injury association, offered its continued support, with chief executive Peter McCabe saying: "At Headway we understand the long-term impact a brain injury can have and although this difficult decision must be heart-breaking for Ryan, it is a sensible one."
Cahill himself tweeted: "Devastated to hear today's news from Ryan. Competing for a corner is something we've done thousands of times and to see those consequences for a top professional like Ryan is heartbreaking. Sending all my love to him and his family, and wishing him the best for the future."