Dom Parsons hopes to find improvements in his start time after downplaying the impact of the technological advances which have helped him slide into Winter Olympics medal contention.
Parsons is 0.03 seconds behind bronze medal position at the halfway stage of the men's skeleton competition, which began on Thursday after rivals questioned the legality of the skinsuits worn by Great Britain's sliders.
South Korea's Yun Sung-bin leads by a huge margin of 0.74 seconds with a total time of one minute 40.35 seconds after two runs. The two concluding runs take place on Friday.
Parsons was equal fifth after the first run and trailed Yun by 0.91secs overall after the second, 0.03 behind Latvia's Martins Dukurs in bronze medal position.
"Having had a bit of pre-race tension coming into the first run, (I) over-drove a couple of bits, was a bit off line," Parsons said.
"The second one was much tidier. (I am) a bit disappointed still. My push wasn't quite where I want it to be."
Parsons' start was well adrift of his podium rivals. The 30-year-old twice clocked 4.88, conceding 0.20 and more to Martins Dukurs.
"I was hoping to get low 80s or even under 4.80 (seconds)," added Parsons, who hopes to shave a tenth of a second off his start time.
Asked if a medal was within reach, Parsons said: "It's what I've been aiming for for the last four years, so I hope so. But let's not get ahead of ourselves too much. I'll just focus on the next two runs."
Parsons opted not to train on Wednesday, a decision he says he made to stay fresh for race day, and he pleaded ignorance on complaints from rival teams over the aerodynamic improvements British sliders are benefiting from here.
The Bath-based slider attributed his advances to work with former British number one Kristan Bromley, whose brother Richard coaches the South Korean sliders, including Yun.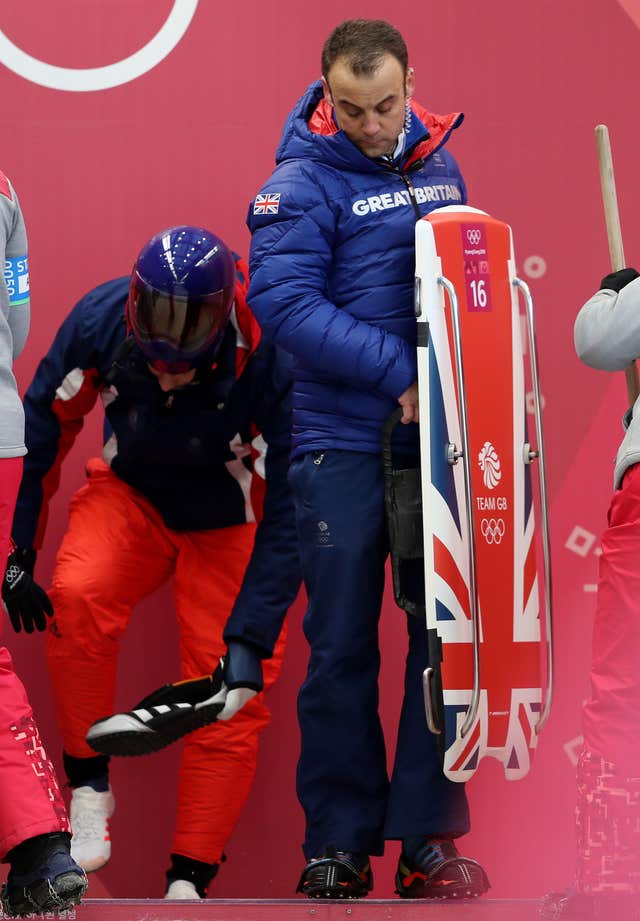 "I don't think it's an arms race. It's more that little extra edge.
"Without getting the basics right you're not going to go fast. The main focus of all the work we do is working with our coaches, working on the fundamentals of sliding and being able to get speed out of a sled, understanding the tracks and getting our lines down the tracks.
"That is the biggest thing and that is where most of our work has gone.
"I'm doing a lot of work with Kristan on sled set-up and runners and everything. And obviously we wouldn't be doing that work if it didn't make a difference.
"It's not the difference between a huge margin. It's just those little hundredths (of a second) everywhere that can hopefully add up to that gap between me and Martins, for example."
Yun dominated the World Cup circuit and it appears the race will be in the battle for silver and bronze, with Parsons very much in contention.
Home favourite Yun is far more familiar with the track than his rivals. He set a track record on his first run of 50.28, going quicker still on the second run in finishing in 50.07.
Parsons expects the gold medal to be beyond him in comparing his pursuit to the 1996 Olympics 400m final.
"It's almost a little bit of a parallel with Roger Black when he was racing Michael Johnson," Parsons said.
"Yun is in a league of his own at the moment and it's his race to lose."
Defending champion Lizzy Yarnold and British team-mate Laura Deas begin their campaigns in the corresponding women's event on Friday.