Dom Parsons claimed Great Britain's first medal of the 23rd Winter Olympics with a surprise bronze on day seven as South Korea's Yun Sung-bin won the men's skeleton.
Parsons thought mistakes on the fourth and final run would prove costly, but Latvia's five-time world champion Martins Dukurs also erred and the Briton claimed bronze.
"I'm very grateful that I got lucky, and I've got to try to process what happened because it doesn't seem real to me."
Yun won by a huge margin of 1.63 seconds on his home track, with Nikita Tregubov, representing Olympic Athletes of Russia, ahead of Parsons by 0.02secs. Dukurs trailed the Briton by 0.11.
Yun said: "Getting the gold medal in any Olympics is a very great result but getting the gold here in my home country is a very great honour, much bigger than that."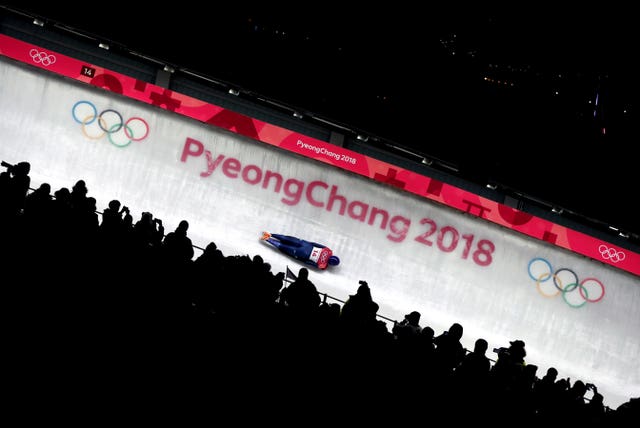 Yarnold led after the first run but a mistake midway down her second shunted her back to third, with Great Britain team-mate Laura Deas also in the medal hunt a further seventh hundredths of a second behind.
Sweden's Frida Hansdotter claimed gold in the women's slalom as pre-race favourite Mikaela Shiffrin of the United States had to settle for fourth.
"I can barely believe it," the Swede said.
Hansdotter was second after the first run, but overhauled Switzerland's Wendy Holdener to win by 0.05 seconds.
Katharina Gallhuber of Austria took bronze, 0.08secs ahead of Shiffrin, who won the giant slalom on Thursday.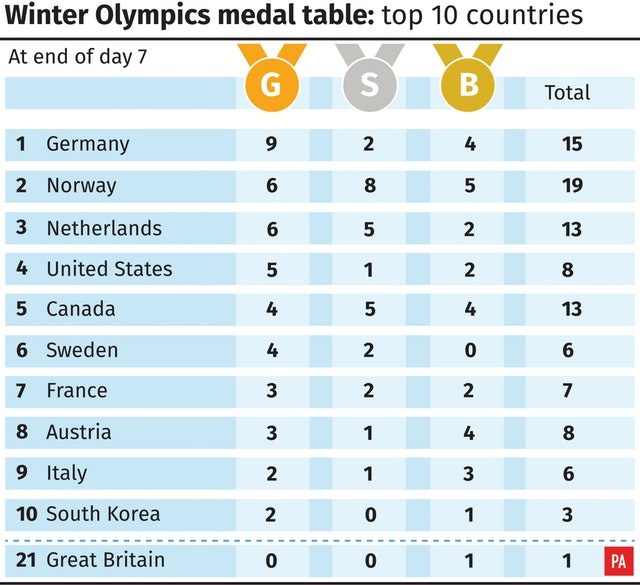 "It's a really big bummer because I know how I have been skiing slalom all season long, it's so close."
Austria's Matthias Mayer claimed the men's Super-G title ahead of Beat Feuz of Switzerland. Norway's Kjetil Jansrud took bronze, 0.18 adrift.
Mayer said: "It's just unbelievable. Four years ago I won the downhill and now today I'm Olympic champion in super-G. I have no words for that."
Great Britain's men's curling team were beaten 8-6 by medal contenders Sweden to move to two wins and and two losses from their four games to date.
Britain's Andrew Musgrave failed to build on his seventh place finish in the men's skiathlon as he came in a disappointing 48th in the cross-country 15km free.
Musgrave had hoped to muscle in on medal contention but never came close and afterwards admitted: "That was pretty shocking. I felt heavy the whole way round and never got going."
Dario Cologna of Switzerland pipped Norway's Simon Krueger, while Britons Andrew Young and Callum Smith finished 57th and 75th respectively
The women's snowboard cross event was won by Italy's Michela Moioli, with 16-year-old Julia Pereira de Sousa Mabileau of France taking silver.
Bronze went to Czech Republic's Eva Samkova and Lindsey Jacobellis of the United States was fourth.
Jacobellis is renowned for showboating in Turin 12 years ago, costing her the Olympic gold. She finished with silver then, a prize which remains her only Games medal.
"I made the finals which is something I haven't done since 2006, so I was pretty excited about that," Jacobellis said.
Zoe Gillings-Brier advanced from the timed qualifiers, but was fourth in her heat to miss out on a place in the semi-finals.
She said: "I was close to the girls and getting through, close but not quite there."