Elise Christie's Winter Olympics nightmare took a new twist on Saturday night as she was carried out of the Gangneung Ice Arena on a stretcher.
Instead of toasting an historic first medal of her career the 27-year-old faced the prospect of a night in hospital after crashing on the final bend of her 1500m semi-final.
Christie tried to cut through to take second place but took out China's Li Jinyu and slid into the barriers, where she was tended by medics.
To add insult to her injury, as Christie was been wheeled out of the arena to polite applause, the final race verdict on the big screen showed she had been disqualified.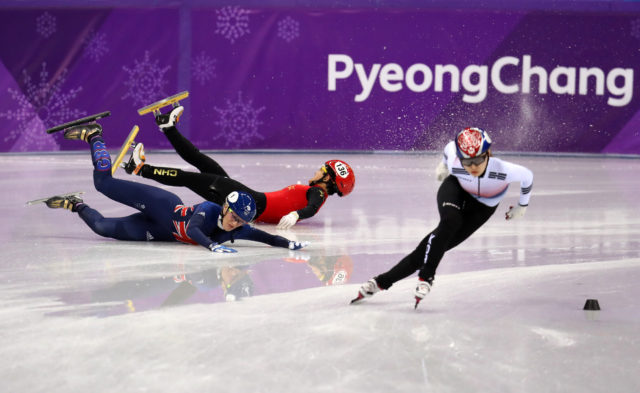 "I've spoken to the performance director, Stewart Laing, who is in the ambulance with her on the way to hospital but it's too early to tell – she's going to have scans and we will see exactly what the story is.
"I saw her being carried off and a doctor is also in the ambulance with her but it's too early to tell, we've got to give them a chance to scan and see.
"It's tough but right now it doesn't really matter about the race or whatever, it's really her health we're concerned about and the scan will tell us."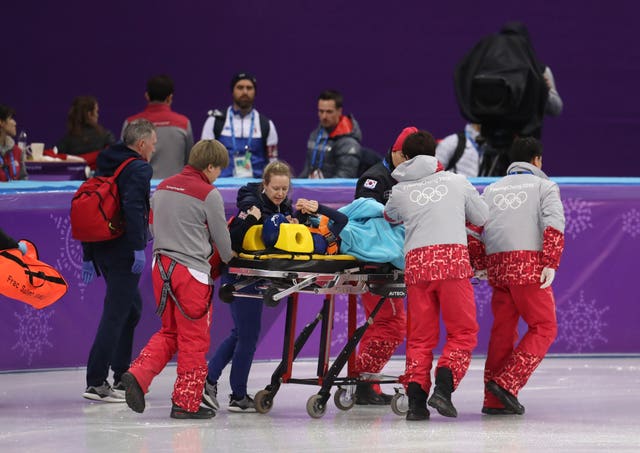 It was the second blow in Pyeongchang for Christie, who had crashed out of her 500m last weekend, and there is now a serious risk of a repeat of her Sochi performance three years ago, when she failed to finish all three of her races.
Christie's team-mate Charlotte Gilmartin, who also crashed out of her semi-final, said: "It looks like it's her foot, ankle, but I haven't had a chance to speak to her.
"I'm just hoping it's an impact thing that's shocked her but she doesn't stay down for nothing. It's horrendous. I really feel for her. I just hope it's nothing major and the 1000m is all to play for."
Christie's boyfriend, Hungarian skater Shaolin Liu, was also disqualified in the men's 1000m final, after colliding with South Korean skaters Seo Yira and Lim Hyojun.