Sixteen years after Rhona Martin sunk her 'Stone of Destiny' to seal Olympic glory, Eve Muirhead produced her own last stone heroics to keep her Pyeongchang dream alive.
Muirhead went into the final end against Switzerland trailing 7-6 in a game Great Britain badly needed to win to realistically maintain their challenge for a semi-final place.
And needing two to avoid handing the hammer in an extra end to the Swiss – also the opponents on GB curling's greatest day when Martin's team won gold in Salt Lake City – Muirhead held her nerve to clip out an opposing stone in a busy house and seal an 8-7 victory.
Muirhead said: "I could see about an inch of that stone but it's shots I practice every day and I know you can make them nine times out of 10 in practice, but you've got to make it on the big stage."
Victory for Muirhead was potentially crucial given their pre-match 3-3 record which puts them in the middle of the pack with their last two games against a strong Japan line-up then resurgent favourites Canada.
A record of five wins from nine is generally seen as good enough to grant at least a play-off for a last four place, but Muirhead will leave nothing to chance when her team return to the ice against Japan on Tuesday.
Muirhead said: "Japan is going to be a really tough game – they have had a win against Sweden and Korea so we can't take anything for granted.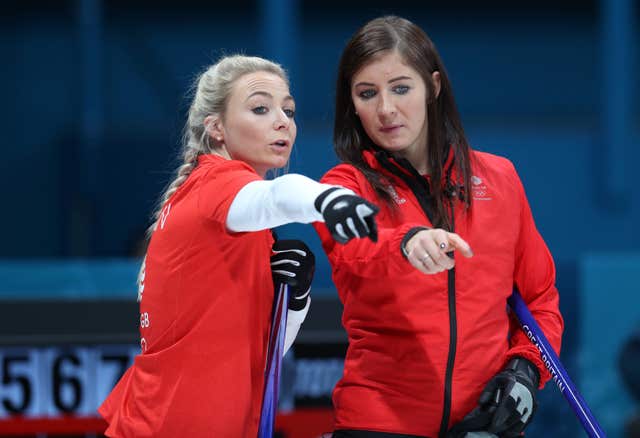 "We know what our job is now, we've got to get a couple more wins on the board so we have to keep on playing well and generating those chances for ourselves."
Great Britain's men's found themselves in an almost identical situation, a 7-6 win over Denmark in the afternoon session boosting their record to 4-3 and also giving them a shot at the last four.
After a difficult start on their first Olympic appearance, Smith's team have recovered well with successive 7-6 wins over Italy and now the Danes taking them from the brink of elimination to a possible place in the final four.
Holding the hammer but trailing by one heading into the last end, Smith capitalised on a Danish mistake to take the two points he needed to avoid his opponents taking the advantage into the extra end.
Thomas Muirhead, the younger brother of Eve, said: "When you are playing these games and you aren't firing, but you are still winning, that's a great boost for confidence. We've still got notches to go up."