High jumper Morgan Lake believes it is the little things which can make the biggest difference as she targets success at the World Indoor Championships and on to Commonwealth Games glory.
Lake delivered the British Athletics Indoor Championship title with a jump of 1.88 metres in Birmingham on February 18, which was some eight centimetres clear of rivals Bethan Partridge and Emily Borthwick.
The 20-year-old, though, feels she can go higher still when back at Arena Birmingham next month to test herself against the best in the world, before aiming to peak with Team England on Australia's Gold Coast during April.
"I have made a lot of technical changes this season, which has also been about getting that conditioning back into the body then hopefully the heights will come again," Lake told Press Association Sport.
"With a high jumper, it is such small things which can make huge changes – going faster in the run-up could equate to a few centimetres higher, there are so many little bits you have to make sure you get on point.
"I have changed my run-up, as I used to go off an eight-stride approach, now I am going off 10.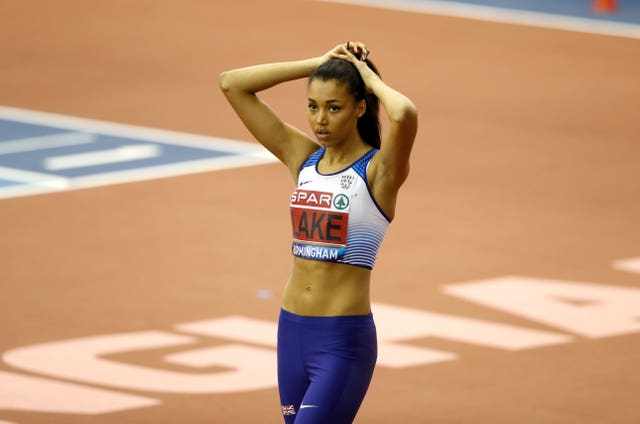 "It is always a balancing act between the two which you try to even out and make sure they both work together.
"I do feel a lot stronger and faster, it is just about making sure it comes together at the right time."
As part of her training regime, Lake, who was world junior champion in 2014 and placed 10th at the 2016 Rio Olympic Games, drinks Red Bull to help her stay "focused in the moment".
Lake said: "It is not like a race where you go out and perform for 10 seconds – I am out in the field for up to two hours, so I need to make sure I keep the energy levels high to stay focused in the moment."
Lake feels Arena Birmingham, which hosts the showpiece indoor championships from March 1-4, will represent the perfect platform for home-grown talent to get among the medals.
"At the British Championships, the atmosphere was amazing and I can tell that a World Championships in Birmingham will be even better, so I am definitely looking forward to that," she said.
Lake, though, will get little down time before focus turns to Australia, where she will join up with the Team England training camp in Brisbane.
"I will have a couple of days off after the World Indoors, then it is basically almost straight into the outdoor season, with the Commonwealth Games the biggest priority for me this year," Lake said.