Eve Muirhead insists she does not feel the pressure of being the last British medal hope standing as she bids to crown her third Winter Olympics with curling gold.
Muirhead leads her team into Friday's semi-final against Sweden as the last realistic chance for Great Britain to beat their current record medal of four from Chamonix and Sochi.
Play-off defeat for the men's team against Switzerland on Thursday, plus a series of underwhelming training times from the four-man bobsleigh, mean the rest of the Games from a British perspective is all about Eve.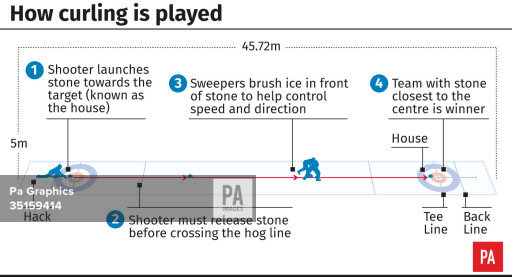 "In every competition we tend to start slowly and build momentum. I always worry that we've left it too late but this time we haven't. We make it quite hard for ourselves but we've booked our spot."
Muirhead's team face a tough last-four clash against Anna Hasselborg's Sweden, to whom they lost 8-6 in the round-robin stages, and who finished second in the standings behind only the runaway leaders South Korea.
And there will be a familiar Scottish name in the opposition, although Sara McManus insists she is a fully-fledged Swede.
The 27-year-old vice-skip is the daughter of Stuart McManus, the Scottish footballer who had a short stint with Southampton before moving to Sweden.
McManus no longer has any family in Scotland, her relations having moved to England after her dad spent some of his youth in Bermuda, but she appreciates that her name attracts attention.
"'Why is your name McManus?' – everyone is interested to hear the story," she added. "I love that my dad comes from Scotland."
Although Muirhead has almost single-handed kept alive Britain's interest in the Games, there are still a number of GB athletes due to be in action over the remaining days.
Apart from the four-man bobsleigh crew, Billy Morgan will go in the men's Big Air final on Saturday, and Andrew Musgrave races again in the 50km cross-country, but neither are considered realistic medal hopes.