Eve Muirhead's trigger finger deserted her as Great Britain's curling team were beaten 10-5 by Sweden in their Olympic semi-final at the Gangneung Ice Arena.
Muirhead had deployed her 'pistol' to sink favourites Canada on Wednesday but two days later it was more a case of shooting herself in the foot as a calamitous seventh end signalled an emphatic defeat.
For the second consecutive Games the 27-year-old Muirhead will now face the tough task of raising spirits ahead of Saturday's bronze medal match against their fellow last-four losers Japan.
"We dealt with a serious loss and came back strongly to win a bronze medal. We'll move on from the loss and focus on the next game and will go out there to get that bronze."
Muirhead's fate hinged on a pivotal seventh end in which it first appeared that Great Britain, trailing 5-3 at the time but with the all-important hammer, would benefit from an uncharacteristic mistake from Swedish skip Anna Hasselborg.
Muirhead said: "If my first shot had passed I think we'd have looked good for three but it didn't and it was a tough draw.
"You've got to make these shots, and if you don't make them against these strong teams like Sweden, you're going to be on the back foot."
While the seventh end may have come down to matter of inches, Muirhead's team were always struggling to assert themselves after falling two down in the second end, and seldom looked like booking a place in their first Olympic final.
Muirhead was badly in need of the same magic which saw her eliminate the Canadians on Wednesday with a raised double take-out, but none was forthcoming from a player who would be the first to admit she has struggled to consistently fire at this tournament.
GB's Canadian coach Glenn Howard, who received some social media criticism after masterminding his home nation's demise on Wednesday, said he had no doubts Muirhead's team would bounce back in the bronze medal match.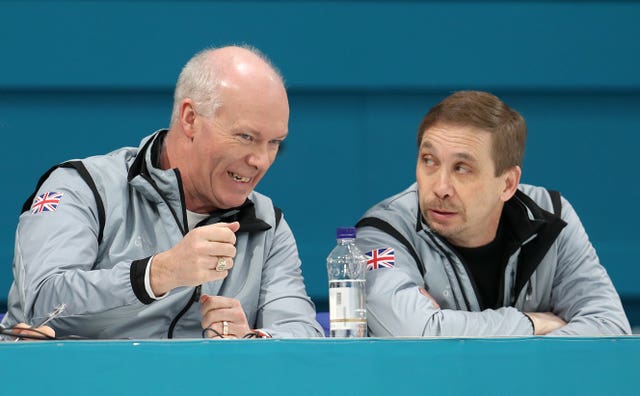 "These girls give their heart and soul in every game they play. Obviously they wanted to get in the gold medal game but the bottom line is they are going into the bronze medal and it is not going to be hard to get them back into shape."
Japan's hopes of reaching the gold medal match ended in a comparatively thrilling clash with hosts South Korea on the adjacent rink, home skip Eun-jung Kim drawing the final stone of the extra end to seal an 8-7 win amid tumultuous scenes.
Earlier, Canada's curling calamity continued when the men's team followed the women in failing to win a medal, Kevin Koe's team falling to a 7-5 defeat to Switzerland in their bronze medal match.