Mark Williams declined to respond to former professional player Darren Morgan's claims of cyber-bullying after his opening win at the Welsh Open.
Former World Championship semi-finalist Morgan, now 51 and playing as an amateur, labelled fellow Welshman and Williams "a bully and a keyboard warrior" after the two-time Crucible champion seemingly questioned his right to be involved in this week's tournament.
After Williams beat Mark King 4-2, he came face to face with BBC Wales pundit Morgan in his post-match interview but, having previously goaded him on social media, avoided escalating the situation further.
"It's probably best for me not to make any comment," said the 42-year-old.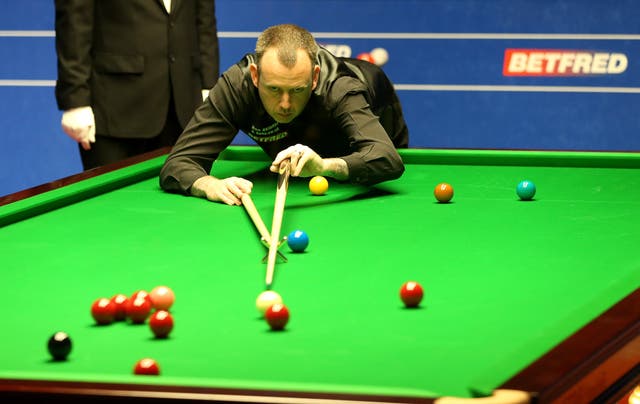 "There's no point me making any further comments, he's said what he's said and that's it, there's nothing I can do about it."
Morgan secured a wild card entry to the tournament by winning an amateur event in January, the Robert Harhhy Memorial, beating 16-year-old Jackson Page in the final.
Williams claimed Page, who was later handed a place in the Welsh Open draw due to Joe Swail's withdrawal, should have been entitled to a wild card in the first instance.
The 42-year-old Williams said on Twitter on February 13, regarding Morgan and fellow Welsh wild card Rhydian Richards: "Both of you should count yourselves (lucky) your in it at all."
That and other social media interaction from Williams drew a forceful response this week from Morgan, who told BBC Sport Wales: "I know he's fighting Jackson's corner but he's a total joke."
Morgan, who lost to Richards in their pre-qualifier at the tournament venue on Monday, said of Williams: "He thinks it's a bit of banter but there's consequences to everything people do and say… but where he thinks it's banter, to a lot of people it's cyber-bullying… he is abusing his position.
"He's a bully. He's a keyboard warrior… but he gets away with it."
Williams reacted by writing on Twitter: "I'm a grown man and can take it on the chin or chinssssss. Jealousy is a horrible thing"
Asked by a user of the social network who Morgan was, Williams said: "I think he was tha fella who used to impersonate a snooker player about 30 years ago"
Morgan's World Championship semi-final appearance came in 1994, when he lost to Jimmy White.
Press Association Sport understands no disciplinary action has been taken at this stage over the claims from Morgan.
Teenager Page won his first-round match on Monday at the Welsh Open, beating Sean O'Sullivan 4-3 to set up a last-64 clash with defending champion Stuart Bingham.