Pep Guardiola is preparing to write to the Football Association explaining his decision to continue wearing a yellow ribbon.
The Manchester City manager is facing an FA charge of "wearing a political message" for sporting the symbol on his clothing in support of imprisoned Catalan politicians in recent months.
The governing body considers the matter a potential breach of its kit and advertising regulations and has given the 47-year-old until next Monday to respond.
Guardiola said after Sunday's Carabao Cup final win over Arsenal at Wembley that he would continue wearing it because he "is a human being before a manager" and he will make his reasons clear.
Catalonia-born Guardiola said: "Of course I am going to write a letter and I am going to explain our position. I am available for the FA, absolutely, so it is no problem."
Guardiola is one of Catalonia's highest-profile sportsmen having captained and managed Barcelona.
He started wearing the ribbon after two political leaders were imprisoned following the region's independence referendum in October, which was declared illegal by Spain.
The FA prohibits the displaying of political messages by club officials on the touchline and twice warned Guardiola before issuing the formal charge last week.
The regulations concern only the technical area and do not cover pre- or post-match activities. The charge came after Guardiola was seen wearing the ribbon during City's surprise FA Cup defeat at Wigan last Monday.
It was then noticeable that Guardiola covered the symbol with a scarf during the Carabao Cup final having been openly displaying it during the national anthem and other pre-match formalities at Wembley.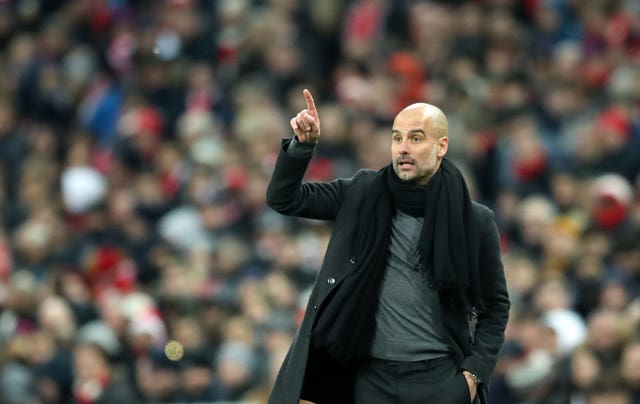 Speaking at a press conference to preview Thursday's Premier League clash with Arsenal, at which he was also wearing the ribbon, Guardiola said: "The feeling to belong to something, I am really grateful for that initiative.
"They don't have to do it. It is another country, yet they did that. That makes me really happy because that makes people understand the situation, what is going on, people in prison in Spain. So, I'm 100 per cent grateful to them."