Arsene Wenger admitted his Arsenal side are low on confidence after they were thrashed by Manchester City for the second time in four days.
After losing Sunday's Carabao Cup final 3-0, the Gunners could not find any level of retribution as they were beaten by the same scoreline.
Pep Guardiola celebrated his 100th game in charge in style as Bernardo Silva, David Silva and Leroy Sane all scored wonderful first-half goals for City, who now require only five more wins to secure the Premier League title.
Wenger's side have now lost seven of their 13 games in all competitions since the turn of the year and are 10 points off the top four and a massive 30 points adrift of the champions-elect.
"I think it was a game with a team of top quality and full of confidence against us who were low on confidence," the Arsenal boss said.
"I knew before the game the first half would be difficult for us after what happened on Sunday and we needed at least to be level at half-time.
"They took advantage of our lack of confidence. We're going through a difficult period, they're going through a period where all goes well for them.
"You could see that tonight. I don't deny their quality because they have top quality, but we're going through a difficult patch at the moment. That's part of football as well unfortunately."
It was another painful night for the Arsenal fans who battled sub-zero conditions to watch their side outclassed.
"We made an amazing three goals, nice goals. But the last 10 minutes, it was the same minutes as the first 20 of the second half, it was really poor," he said.
"But of course we cannot deny today was a tough game after we beat Arsenal four days ago, come back here in front of their fans, they have pride."
While plenty of people have already handed the title to Manchester City, who now require just five wins to claim the trophy, Guardiola continues to be pleased with the application of his players.
"Always you can think, a lot of points in front, you can relax, and we did the opposite," he said.
"We played with courage, of course we made a good game. The second half, the weather conditions, windy, the way we want to attack or defend it was not clear."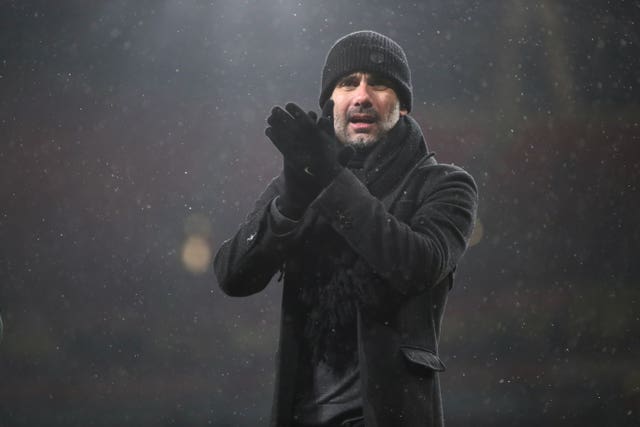 "He knows my admiration for him," he said of the Frenchman.
"We play, we fight many, many times in Barcelona, a lot of times in Bayern Munich, a lot of times here in Premier League. A lot of times.
"He knows the club, he knows the Premier League, he knows his players. And I'm sure he's going to take the right decision, for the club, for him, for the players, for everybody."