Former Liverpool defender Jamie Carragher has called on Arsenal to end Arsene Wenger's reign in the summer to ensure he gets "the send-off he deserves".
Wenger signed a new two-year deal at the end of last season but is under increasing pressure after a nightmare start to 2018.
Arsenal began the year with a shock FA Cup defeat at Nottingham Forest and remain 10 points adrift of the top four in the Premier League following the 3-0 loss to Manchester City, who beat the Gunners by the same scoreline in the Carabao Cup final just days earlier.
Many Arsenal fans stayed away on Thursday and Carragher believes a large section of the Emirates Stadium support are just waiting for Wenger to leave.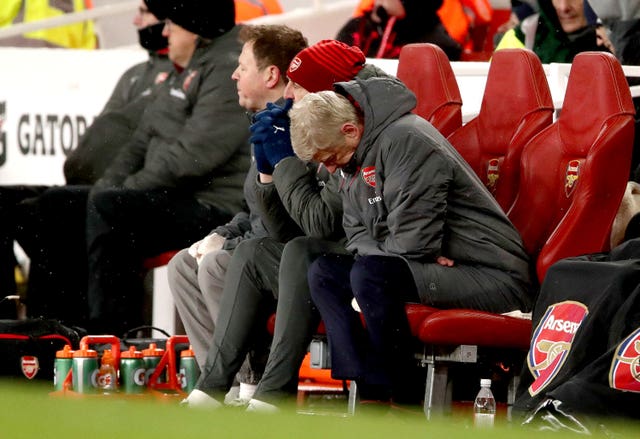 "But I think tonight was worse. The Arsenal fans are not actually interested. They didn't turn up.
"There were a few boos at the end but it wasn't the anger of last season. Now it's almost like resignation, just waiting for the manager to go.
"How sad is that? That very few, if any, Arsenal fans want Arsene Wenger as the manager next season.
"This man is a legend in the English game. But they have to change it, it has to be done.
"There's no way the end of this season should be about this man being hounded out and going through that in empty stadiums.
"Make the decision now and give this man the send-off he deserves for what he's done over 20 years, not what he's done over the last five, six, 10 years."
Fellow pundit Thierry Henry, who won two Premier League titles under Wenger, expressed his sadness after Arsenal's seventh defeat of 2018.
"The man has been more than magnificent for this club and everyone knows how magnificent he has been for me," said the Frenchman.
"I was expecting a response today – some pride and passion. But it didn't happen.
"I feel sad because this is the club that I love and a man I have a lot of respect for.
"You're kind of lost for words. You get upset and you have a go but tonight…"
Carragher interrupted: "It feel like an end. The supporters were tired and flat.
"It felt like a resignation that it was a parting of the ways."