Pep Guardiola has admitted a Football Association charge of "wearing a political message" and will make a written submission for a disciplinary hearing.
The Manchester City manager has accepted that his wearing of a yellow ribbon on the touchline in recent months is a breach of the governing body's kit and advertising regulations.
However, Press Association Sport understands that Guardiola's response is one of observing – rather than respecting – the rules of the country he is working in and has not apologised.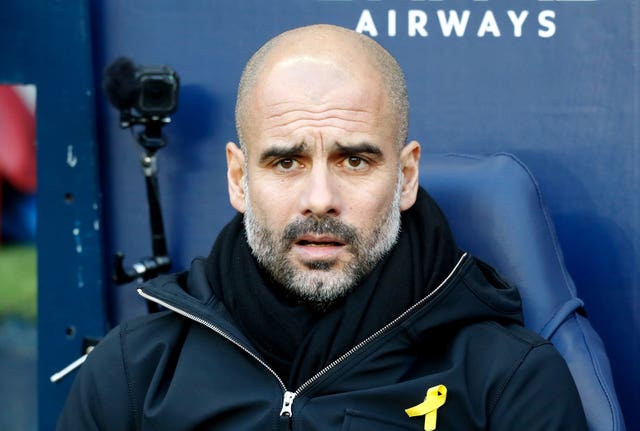 The Catalan-born City boss, a former Barcelona manager and captain, has argued that the symbol is not political but he will now stop wearing it on the touchline.
An FA statement read: "Manchester City manager Pep Guardiola has admitted an FA charge for wearing a political message, specifically a yellow ribbon, in breach of the FA's kit and advertising regulations. A paper hearing has been requested, with a date to be set in due course."
Guardiola, who could face a fine, had until 6pm on Monday to respond to the charge but actually wrote back to the governing body on Saturday.
A date for Guardiola's disciplinary hearing is yet to be arranged.
He ignored two warnings from the FA over the matter before being charged after City's surprise FA Cup defeat at Wigan a fortnight ago.
The regulations specifically cover the technical area during matches, meaning Guardiola is free to wear the ribbon for pre- and post-match media duties.
Since the charge was issued Guardiola has either covered up the ribbon during games or not worn it.
The yellow emblem worn by Guardiola during Sunday's Premier League win over Chelsea was the daffodil of the Marie Curie cancer charity.
The FA's stance on the matter differs from European governing body UEFA, who allows the ribbon to be worn. City also believe the symbol is not generally considered offensive.
Meanwhile, FA chief executive Martin Glenn has apologised after being criticised for his "ill-judged", "offensive" and "inappropriate" explanation of his organisation's response to the yellow ribbon.
In trying to justify the FA's decision to charge Guardiola, Glenn appeared to equate the Star of David with a swastika.
Glenn on Monday issued an apology, which has been accepted by the Jewish Leadership Council.