Pep Guardiola has been fined £20,000 for wearing a yellow ribbon on the touchline, the Football Association has announced.
The Manchester City manager has also been warned as to his future conduct by the governing body after admitting a charge of "wearing a political message".
Guardiola has argued wearing the symbol, in support of imprisoned politicians in Catalonia, is not political but has accepted it is in breach of the FA's kit and advertising regulations.
The Catalonia-born City boss will continue to wear the ribbon for pre- and post-match media commitments, however. This is permitted as the FA's kit and advertising regulations refer specifically to the technical area during games.
He can also wear it during Champions League matches, as he did for Wednesday's clash against Basel, because it is not a breach of UEFA codes.
Guardiola started wearing the ribbon last autumn following October's independence referendum in Catalonia, which was declared illegal by Spain. It is understood he ignored two warnings from the FA before being charged after last month's FA Cup loss at Wigan.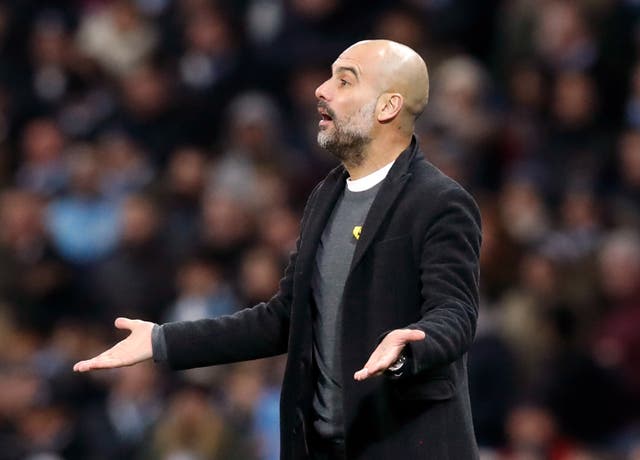 Speaking on Tuesday, Guardiola said: "I accept the decision because I have to do but that doesn't mean I agree or not, or they are right or not. I am here, I am working here and there are rules and I accept them.
"I said from the beginning if the FA considers I shouldn't wear the yellow ribbon I would accept it but the fact that I wear it or not doesn't mean anything, because the yellow ribbon is always going to be there, whether you see it or not, even if I wear it in the press conference, post-match, it doesn't matter, the situation doesn't change, there are still people in prison in an unfair way."