Jacob Stockdale insists Ireland want to harness their Grand Slam triumph to become the best team in the world.
The record-breaking wing believes "the sky is the limit" on his own try-scoring potential, and backed Ireland to run back-to-back world champions New Zealand all the way for the tag of the globe's top Test outfit.
Stockdale set a new Six Nations-era record seven tries in a single tournament as Ireland saw off England 24-15 at Twickenham on Saturday, to secure just their third-ever Grand Slam.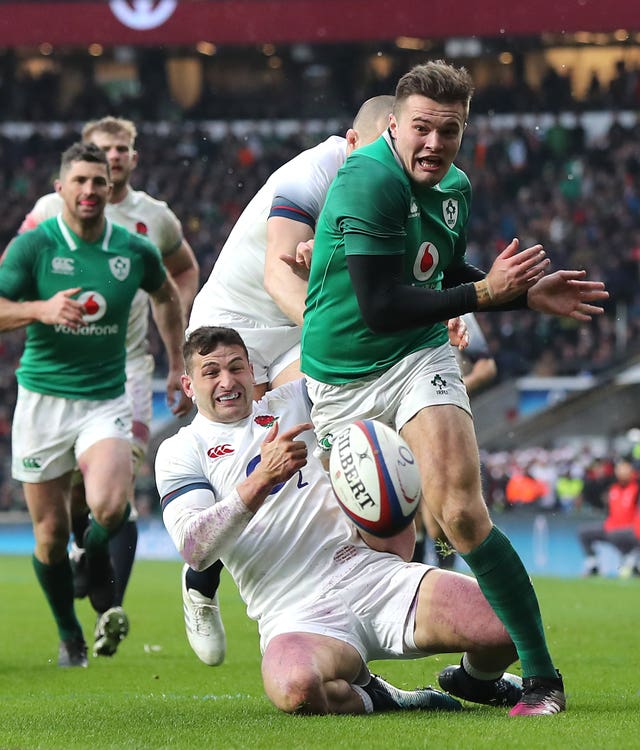 "We've won a Grand Slam, and that's the first stepping stone to being a dominant team in world rugby," said Stockdale, with Ireland leapfrogging England to second in the world rankings during the Six Nations.
"We're sitting number two in the world, and we're excited to have a crack at New Zealand. We're in a really good place right now but there's still a lot to work on.
"We can look forward to next year's Six Nations and then the World Cup.
"Look, Joe (Schmidt) hasn't said 'New Zealand is the target' but your ambition is to be the best team in the world and to do that you have to beat the best team in the world. At the minute that's New Zealand.
"We're going to keep training and working as hard as we can."
Stockdale's rapid-fire scoring rate has left him trailing only England's Cyril Lowe and Scotland's Ian Smith in the try stakes for a single championship.
Lowe notched eight in 1914 and Smith matched that mark in 1924, and now Stockdale has become the closest challenger to that all-time record.
Former Ireland wing Simon Geoghegan needed 37 caps to hit 11 Test tries, while Brian O'Driscoll holds the national record with 46 from his 133 appearances.
Former Ulster wing Tommy Bowe racked up 30 tries from 69 caps to sit second on Ireland's all-time scoring list, and also dotted down when Ireland beat Wales 17-15 in Cardiff to claim their 2009 Grand Slam.
While Stockdale grew up idolising provincial stable mate Bowe, he revealed however that he pore over videos of former Fiji maverick wing Rupeni Caucau as a youngster trying to hone his game.
Asked how many tries he can score for Ireland, Stockdale replied: "Flip, the sky is the limit I guess.
"This is one of the best feelings I've ever had in a rugby shirt and to win a Grand Slam in my first Six Nations is pretty special.
"To get that try record, it's a great feeling. Every game I was just going out and trying to do the best I could and thankfully the tries came from that. It was nice to help the team.
"The celebrations at the end were incredible. We'd been told the families were in the corner so we managed to get over there. I got a hug from my mum and my dad, my girlfriend. My mum was crying. It's brilliant to share moments like that with the family."
Asked for his role models growing up, Stockdale continued: "Funny, it was Rupeni Caucau; I've never tried to pronounce his name before.
"I remember watching tribute videos and highlights of him. He's probably a different sort of player but he was always one I loved to watch."