Steve Trapmore led Cambridge to a farewell Boat Race triumph, with his crew's heartfelt tributes ringing in his ears.
Trapmore, a gold medallist at the 2000 Olympics in Sydney, relinquished his Cambridge head coaching role with a three-length victory over Oxford – and will join Team GB's Olympic rowing programme on April 5.
Favourites Cambridge stormed to an aggressive triumph in the contest's 164th edition, as Trapmore brought down his eight-year spell in style.
The 43-year-old has completed a total overhaul of Cambridge's rowing programme, overseeing the construction of a £5million purpose-built training complex.
Cox and club president Hugo Ramambason hailed Trapmore's influence both on and off the water.
"Steve was disarmingly nice from the first time we met," Ramambason said. "He's more than a coach, he's a mentor to all of us.
"More than just rowing, the ethos he lives by, he tells us to work harder than anyone else and take nothing for granted. The development I've made not just as a cox but as a person, the maturity I've gained, it's all down to Steve. He's coaxed that out of me, and he's done that to so many guys."
Cambridge's victory in the men's race completed a clean sweep in all four Boat Races (men's, women's plus reserve races for both) for the first time since 1997.
Trapmore shrugged off any thoughts of his own legacy, insisting the rowers themselves have propelled Cambridge's reversal in fortunes.
"We had something to prove this year. We learned a lot from last year's defeat," Trapmore said. "We put some real positivity in place, and the belief and resilience saw us home.
"In terms of legacy it's the guys setting this up, it's not really me. To end the way we have, with all the Cambridge boats winning, it's a fantastic end to the campaigns.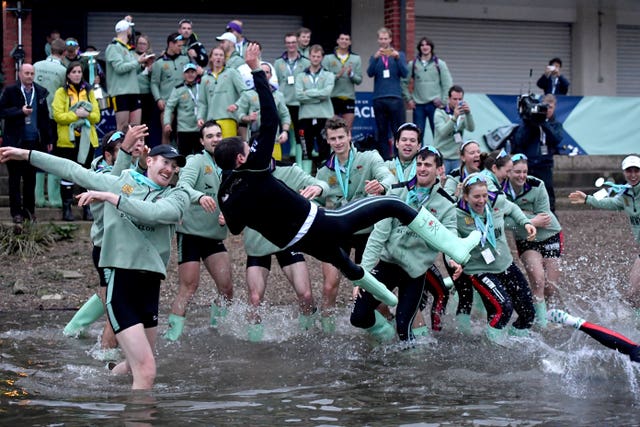 "When the dust settles (on Sunday) and we start packing up, that will be pretty hard."
Oxford were left to reflect on a late crew change, when Benedict Aldous replaced the ill Josh Bugajski only last week.
Aldous had been in hot water in the build-up to Saturday's race for wearing a Ku Klux Klan costume to a fancy-dress party, but head coach Sean Bowden insisted it was illness and injuries that caused his crew's defeat.
"We were just beaten by a better crew," Bowden said. "We've got a guy who was ill, so we had to make a decision. We brought Benedict Aldous in and the boat responded very well when he got in. Will Warr had a back injury before training even started, then Tobias Schroder got glandular fever."
Putney-raised cox Sophie Shapter earlier described guiding Cambridge to victory in the women's race as "a dream come true".
The 23-year-old Psychology and Education student called Cambridge into an immediate advantage, which ended in a seven-length triumph – as the light blue crew claimed back-to-back victories for the first time since 1999.
"It's awesome, it sounds cliche but it's a dream come true to do this," Shapter said.
"To be honest I think that's me done (with rowing). I don't want to go and do any GB stuff, it's intense, it's your career, and that's not what I want to do for the rest of my life. So I think this is it."